Thank you for over 9.1 million views of the SuccuWiki!
Pathfinder Battles Succubus
From SuccuWiki - The Wiki of the Succubi

For other uses of the word Succubus, see Succubus (disambiguation).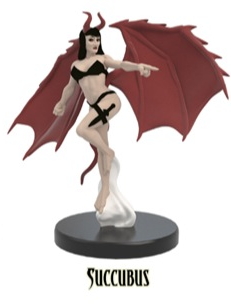 This Succubus figurine is part of the Pathfinder Battles series by WizKids which is a licensed series of figurines by Paizo Publishing. The series consists of 40 miniature figurines to be used with the Pathfinder role playing game or can be used in any fantasy miniatures game. Figurines are randomly distributed in larger packages and cannot be individually ordered from the manufacturer. Additional figures are to be produced, with the first series referred to as Heroes & Monsters and then followed by the first of projected booster packs, which is called Rise of the Runelords.
Figurine Details
Figure Name: Succubus
Series: Pathfinder Battles
Manufacturer: WizKids
Release Date: December 2011
External Links