Thank you for over 5.1 million views of the SuccuWiki!
Once... (Novel)
From SuccuWiki - The Wiki of the Succubi

For other uses of the word Succubus, see Succubus (disambiguation).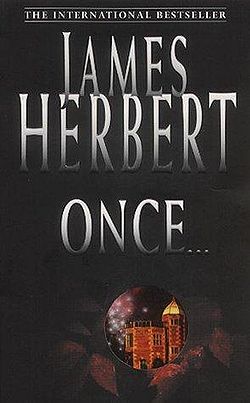 Once..., is a novel written by James Herbert. Within this work a Succubus appears that threatens the main character and others in the story. The Succubus itself is more of a monster, having a form that is from the realm of nightmares, than a creature of sexual attraction, having little of a sexual appearance to it, but having the powers of mind control and perception changing that traditional Succubi do.
Details
Title: Once...
Author: James Herbert
Format: Paperback
Publisher: Tor Books
Pages: 460
Language: English
ISBN-10: 0765343509
ISBN-13: 978-0765343505
Release Date: 1st edition January 20, 2003
Synopsis
Horror master James Herbert serves up a blend of faerie, supernatural chills, eroticism, and identity quest in Once...--a fairy tale with a darker side.
Thom Kindred suffers a stroke and returns to his childhood home to heal. Castle Bracken seems like a pastoral paradise, but almost immediately, Thom begins to experience strange things, both beautiful and frightening. Soon, he finds himself the inexplicable target of hostile magic, even as he begins to recover his childhood ability to perceive the creatures of faerie that inhabit the land. As he struggles to heal, Thom finds himself at the center of a cataclysmic struggle between good and evil that demands all his physical and spiritual strength to survive.
Book Review
The following review is from the Amazon.com link in the External Links below:
3 out of 5 stars
Gothic mansions, mysterious inheritances, and... sexy witches?
Reviewed On: April 22, 2006
Reviewed By: Joseph P. Menta, Jr.

As if a story that combines gothic mystery and fantasy elements like elves, witches, pixies, and fairies wasn't unusual enough, how about a story that combines gothic mystery, fantasy elements, and extremely graphic sex (involving the pixies, witches, and fairies, no less)? If you think you would like, or can at least tolerate, all three of those elements, you'll probably have a good enough time reading this engaging little story about a human man discovering the fantasy world all around him.
A few things in the book went on a bit too long, including an attack by a jarful of ever-multiplying spiders (it was a clever and scary sequence, but several pages longer than it needed to be) and some of the erotic scenes (though if a scene has to go on a bit too long, it might as well be a sex scene). Overall, however, the interesting mix of genres and the alternating moods of the narrative (the story is in turn mysterious, playful, scary, sexy, fantastic, and suspenseful) makes "Once..." a diverting reading experience.
External Links