Thank you for over 9.1 million views of the SuccuWiki!
Omens (Novel)
From SuccuWiki - The Wiki of the Succubi

For other uses of the word Succubus, see Succubus (disambiguation).

Omens, is a novel written by Richard Gavin.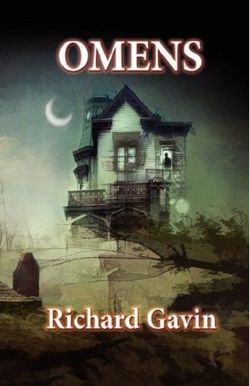 Details
Title: Omens
Author: Richard Gavin
Format: Hardcover
Publisher: Mythos Books LLC
Pages: 132
Language: English
ISBN-10: 0978991125
ISBN-13: 978-0978991128
Release Date: 1st edition March 1, 2007
Synopsis
From Publishers Weekly
Introducing this collection of macabre fiction, Gavin (Charnel Wine) writes of his fascination with nightmares that make us feel as though we are being dreamed. The dozen stories he has gathered effectively convey that feeling through their disorienting shifts of perspective, outré imagery and twisted internal logic. In the Shadow of the Nodding God tells of a working-class drudge who's horrified to discover that the imaginary world he creates with collages has begun erupting into his everyday reality. The Pale Lover describes an esoteric bookstore whose pornographic wares hold the secret of a seductive succubus. The Bellman's Way unfolds as a traditional tale of supernatural menace in which a family newly moved to a rural neighborhood discovers the terrible price of refusing tribute to one of its bogies. Gavin writes in an old-fashioned style that suits the gothic horrors he conjures. Readers of antiquarian ghost tales and classic horror fiction will find this book a fine extension of those traditions.

Copyright © Reed Business Information, a division of Reed Elsevier Inc.
All rights reserved.



Book Review
The following review is taken from http://trashotron.com/agony/reviews/2007/gavin-omens.htm
After his excellent debut collection 'Charnel Wine' I had lost trace of Richard Gavin, an Ontario resident with an extraordinary talent for producing original and disquieting dark fiction.
This second collection seems like a letter from an old friend who went missing for a while and now is getting in touch again. And catching up is so easy that it's like he never left. He's back and telling his stories once again and you can't help savouring every tale because he's a hell of a storyteller.
He will take you in a captivating journey in the depths of pure evil ('The Pale Lover') and will upset you and unnerve you by portraying a creature who proves to be much more than a simple "campfire stuff" ('The bellman's Way').
He will scare you with the dark and atmospheric 'Down Among the Relics', where horrors from the cellar haunt a cottage by the woods during a snowy Christmas, and will move you with 'Daniel', an extraordinary piece in which a man's enormous love for his unfortunate son makes him endure the most terrible ordeals.
He will make you uneasy by probing the very core of human condition in the outstanding 'Strange Advances' featuring a grey, sullen Venice.
Even when the stories don't seem quite accomplished, Gavin's talent sparkles and haunts. This is the case with 'A Form of Hospice', where a cancer patient hopelessly pursues an effective treatment by unorthodox methods and with 'Beneath the House of Life', an obscure tale of subtle horror linked to an old children book.
Gavin has everything a good writer is supposed to have: he has original ideas, can properly develop his plots and manages to create plausible, three-dimensional characters.
I've enjoyed the stories in the extreme and I'm sure you will if you take the time to discover this comparatively newcomer who's already such a mature author to be included in the limited elite of modern masters of horror short fiction.



External Links