Thank you for over 5.1 million views of the SuccuWiki!
Nocked Asunder
From SuccuWiki - The Wiki of the Succubi
For other uses of the word Succubus, see Succubus (disambiguation).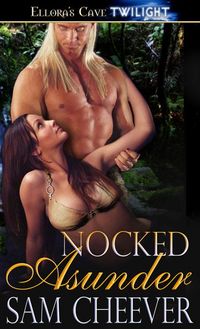 Nocked Asunder is a novel written by Sam Cheever. This novel is part of the Gods of Love series by this author. Other works in this series include Nocked Over, Nocked for a Loop, and Nocked Senseless. The series follows a group of Earth-bound Cupids who run a matching service called Cupid's Arrow. In this story, they come to face a pair of Succubus Sisters named Simone and Sidra who run a house of pleasure in this story universe.
Details
Title: Nocked Asunder
Author: Sam Cheever
Publisher: Ellora's Cave
Format: Paperback and eBook editions
ISBN-10: 1419961772 (Paperback)
ISBN-13: 978-1419961779 (Paperback)
ISBN-13: 978-1419925535 (eBook)
Release date: September 22, 2010
Summary
In her line of work, Athena Googlios is accustomed to hot, sexy men. But Damian Leandar brings hot to a whole new level. His touch, even his gaze, makes her body clench and warm with lust. Athena's mind tells her she needs to treat him like any other client.
But her body has its own agenda. And when Athena finds herself facing off with a pair of truly ugly mythical creatures, Damian may be the only one who can save her from a fate worse than death. Unfortunately, Damian has some pretty big secrets. And despite the feelings they can no longer ignore, something bigger than love may yet come between them. In the end, it might take losing everything they have to make them realize how much they have to lose.
Book Review
A book review can be found at the Bitten by Books website. That review can be found here.
Tera has the work on her reading list and will add a review as soon as possible.
External links