Thank you for over 12.9 million views of the SuccuWiki!
Neo Succubus Set (Vendalia Foxtrot)
From SuccuWiki - The Wiki of the Succubi

For other uses of the word Succubus, see Succubus (disambiguation).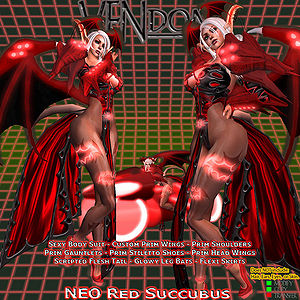 Vendalia Foxtrot is a Second Life skins and avatar designer. You can purchase various outfits, shoes, boots and other items to add to the avatar you use in the Second Life universe. This is a Neo Succubus Set that is available for purchase and use in the Second Life universe. It is available in two colors, red and blue, and
NeoSuccubus Set
Comes in two colors: Red and Blue
This set comes with sculpted shoulder pads, wings, gauntlets, shoes with feet, and many other itens. There is also a color changing HUD that allows changes to the skin tint for the feet and tail of the avatar.
Neo Succubus Tail: Can adjust color with Color Changing HUD. The tail is animated with a wag. Also, when someone touches it, they can choose from 6 different things that can happen as a reaction to that.
High Heel Shoes: Can adjust color of foot skin with Color Changing HUD. By clicking on the shoes, you can change the size of the shoe and foot. Also, you can change the texture skin to white with the color changing HUD, or you can also change the texture to the Freak texture.
Larger Prim Chest Texture: If you use the larger prim chests that allow you to add a texture, there is also a texture that can be applied to them. It is found in your folder as a Large Chest Top Texture.
External Links