My Sister the Succubus (eBook)
From SuccuWiki - The Wiki of the Succubi
My Sister the Succubus



My Sister the Succubus Revised eBook Cover, written by The Wolf

Author(s)
The Wolf
Series
Family Succubus
Publisher
Smashwords
Publication date
June 18, 2015
Media type
eBook
Length
18 Pages
ISBN
9781310616228
Preceded by
Son of a Succubus
For other uses of the word Succubus, see Succubus (disambiguation).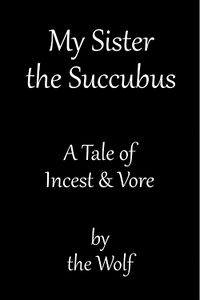 My Sister the Succubus is an eBook written by The Wolf. It is the second work in the Family Succubus series by this author. In this work the character Violet is a Succubus.
Overview
Title: My Sister the Succubus
Author: The Wolf
Published By: Smashwords
Length: 18 Pages
Format: eBook
IBSN: 9781310616228
Publishing Date: June 18, 2015
Other Works in this Series on SuccuWiki
Plot Summary
In this follow-up to Son of a Succubus, Phillip has always worked hard to get out of his mother's household, get to college, and avoid the mistakes other brothers have made. He's doing well and for a while it seemed his worries about winding up as food for a succubus were behind him. Though recently, one of his few sisters Violet has found him by chance and started spending time with Phillip ... and using him for the odd sexual snack. Violet at least seems to have no desire to wind up gulping Phillip down, and the fun times are pretty good. But it's a bad sign when Vi shows up pale, desperate, and clearly not having fed in a few weeks...
Book Review
At the time of this article's entry in the SuccuWiki, no review was available. Tera has this work on her reading list and will review it shortly.
External Links