Thank you for over 5.1 million views of the SuccuWiki!
Murphy's Lore After Hours: Nightcaps
From SuccuWiki - The Wiki of the Succubi

For other uses of the word Succubus, see Succubus (disambiguation).

Murphy's Lore After Hours: Nightcaps, is a novel written by Patrick Thomas.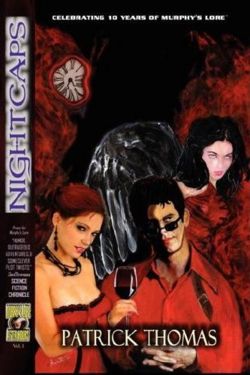 Details
Title: Murphy's Lore After Hours: Nightcaps
Author: Patrick Thomas
Format: Softcover
Publisher: Padwolf Publishing, Inc.
Pages: 176
Language: English
ISBN-10: 1890096350
ISBN-13: 978-1890096359
Release Date: April 1, 2007
Synopsis
Evil walks the Earth in many forms, but so do those who oppose it. Protecting the innocent & seeking justice, they fight to beat back the darkness. Their names are legend or soon shall be. Welcome To Murphy's Lore After Hours. In time for the 10th Anniversary of the Murphy's Lore books the legendary patrons of Bulfinche's Pub get their own collection in which: Hex rescues a reluctant vampyre; Terrorbelle finds herself a bouncer in a bar that serves blood; Layla tries to do business with a man bleeding to death in a tub; Nemesis works so a Middle Eastern politician can see the world through a woman's eyes; the Soul for Hire saves a little girl who may be more dangerous than her kidnappers; Moni the Graveyard Angel contends with a crooked monument builder; we see one of Mathew & Ryth's first encounters & later hope Murphy, Ryth, & her unborn child can escape the succubus' stalker; Agent Karver of the DMA faces the Beast With Two Backs; Coco Joe starts to make his move; the Infinite Jester contends with a unicorn serial killer; we meet Daye the Daemor assassin; Loki & Heimdal search for common ground; Mosie the psychic saves a hunted woman; & Paddy's kids do him proud.
Book Review
At the time of this article's entry in the SuccuWiki, no review was available for this novel.
External Links