Thank you for over 12.9 million views of the SuccuWiki!
Morrigan and Lilith - The Embrace
From SuccuWiki - The Wiki of the Succubi

For other uses of the word Succubus, see Succubus (disambiguation).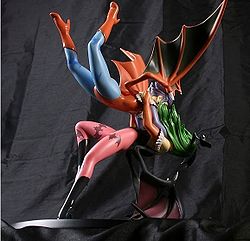 Morrigan and Lilith - The Embrace is a large scale resin figurine sculpted by Cody Pence that was produced by SATO Toys for the 2011 San Diego Comic Convention in a limited production run. It originally appeared on the SATO Toys store for purchase on June 17, 2011 and was priced at $159.99 US per figurine. It is a complete and painted figure set of Morrigan and Lilith Aensland in an embrace looking into each others eyes.
Details
Figurine: Morrigan and Lilith - The Embrace
Sculptor: Cody Pence
Manufactured by: SOTA Toys
Scale: Overall height of the figurine is 12 inches
Release Date: August 1, 2011 at the San Diego Comic Convention
Model: 01210
Description: This is a large scale figurine of Morrigan and Lilith Aensland in an embrace looking into each others eyes.
Figurine Setting: Morrigan and Lilith fall, together, in a loose embrace, unaware of how much longer they have together. Will they stay lost in each others gaze until it is too late? Locked in their embrace, this Comic Convention Exclusive statue freezes in time a moment that Morrigan and Lilith wish to last forever.
Price: $159.99 US
External Links