Thank you for over 12.9 million views of the SuccuWiki!
Misfit (Novel)
From SuccuWiki - The Wiki of the Succubi

For other uses of the word Succubus, see Succubus (disambiguation).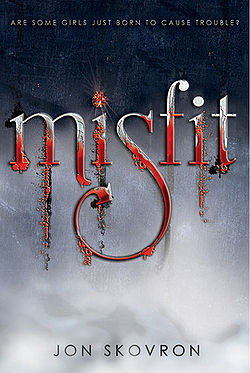 Misfit, is a novel written by Jon Skovron. In this work the character Astarte describes herself as a Succubus and her daughter Jael, is a half succubus.
Details
Title: Misfit
Author: Jon Skovron
Format: Hardcover
Publisher: Harry N. Abrams
Pages: 384
Language: English
ISBN-10: 1419700219
ISBN-13: 978-1419700217
Release Date: August 1, 2011
Synopsis
Jael Thompson has never really fit in. She's changed schools too many times to count. The only family she's ever known is her father, a bitter ex-priest who never lets her date and insists she attend the strictest Catholic school in Seattle. And her mother--well, she was a five thousand year old demon. That doesn't exactly help.
But on her sixteenth birthday, her father gives her a present that brings about some unexpected changes. Some of the changes, like strange and wonderful powers and the cute skater boy with a knack for science, are awesome. But others, like the homicidal demon seeking revenge on her family? Not so much.
Steeped in mythology, this is an epic tale of a heroine who balances old world with new, science with magic, and the terrifying depths of the underworld with the ordinary halls of high school.
Book Review
At the time of this article's entry in the SuccuWiki, no review was available.
External Links