Thank you for over 12.9 million views of the SuccuWiki!
Minion's Quest
From SuccuWiki - The Wiki of the Succubi

For other uses of the word Succubus, see Succubus (disambiguation).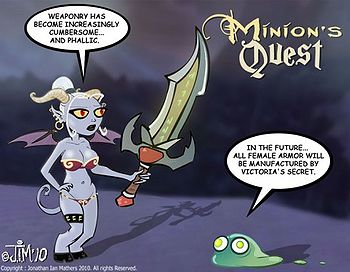 Minion's Quest is a YouTube series created by Jonathan Ian Mathers, the creator of the animated cartoon series Neurotically Yours. The first episode of the series appeared on YouTube July 21, 2010 and new episodes have appeared at various times. The series followed the adventures of a Succubus named Velosa, who, after being summoned, finds her Master nowhere to be found. Her quest begins to search for him and the series shows what happens to her during that adventure.
Production Information
Creator and Artistic Design: Jonathan Ian Mathers
Voice of Velosa: Dawn Bennett
Series Characters
Velosa
A blue skinned Succubus with horns, wings and a tail. A tail which has a mind of its own and rarely behaves. She seems to be very much lost in the world she finds herself in, which doesn't make her life easy or saves her from various downfalls.
Ooze
Ooze is a greenish gelatinous blob of ooze that meets Velosa in episode two of the series. He has the ability to "see into the future", occasionally with bad results for Velosa.
Episodes
The following are summaries of the episodes produced and links to the videos on YouTube
Episode One - The Quest Begins... Sort Of.
Release Date: July 21, 2010
Velosa arrives to find her master missing and in their place a rabbit. She attempts to converse with the rabbit, but she doesn't get an answer from it. In the end she kills it, but is still confused why it won't answer her.
You can find this episode on YouTube here
Episode Two - Beware Of The Blob
Release Date: August 4, 2010
A green blob finds Velosa in the forest and asks what she is doing there. Velosa finds herself trying to explain what a Succubus is to the blob and what her powers are. Ooze reveals that he can see into the future and makes two predictions.
You can find this episode on YouTube here
Episode Three - I Know Where We Are
Release Date: August 18, 2010
Velosa and Ooze are still in the forest and lost. Velosa's tail does some very odd things during the episode and the Blob makes another prediction.
You can find this episode on YouTube here
Episode Four - Ogre Issues
Release Date: September 2, 2010
Velosa and Ooze are lost in a bog when Ooze makes a prediction about Ogres. This does not go well for Velosa by the time the episode ends.
You can find this episode on YouTube here
Episode Five - Collect Your Thoughts
Release Date: September 11, 2010
Velosa is dealing with the aftermath of the Ogre having his way with her. Ooze tries to make her feel better but that doesn't quite work. Ooze also makes a prediction that amazingly comes true!
You can find this episode on YouTube here
Episode Six - The Sacred Tome
Release Date: March 9, 2011
Velossa & Ooze have to complete a quest in order to meet the elven armor master so that Velossa can obtain some new armour. The quest turns out to be not very difficult to accomplish, and the tome isn't exactly what they expected it to be.
You can find this episode on YouTube here
External Links