Thank you for over 5.1 million views of the SuccuWiki!
Midnight Madness
From SuccuWiki - The Wiki of the Succubi

For other uses of the word Succubus, see Succubus (disambiguation).
Midnight Madness is a 1993 adult movie staring Peter North and directed by Eric Edwards. It was produced by Dreamland Entertainment. The movie's antagonist is a succubus that goes by the name of Phaedra (Tiffany Mynx). She haunts and seduces the protagonist (Peter North) in his dreams.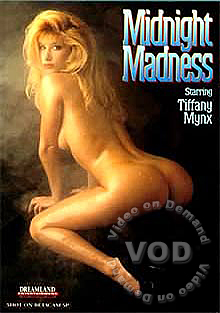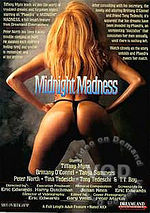 Overview
Movie Title: Midnight Madness
Release Date: 1993
MPAA Rating: XXX - Sexual Content and Language
Director: Eric Edwards
Studio: Dreamland Entertainment
Genre: Erotica, Feature
Cast
Actor / Actress
Peter North
Tina Tyler
Tony Tedeschi
Tina Tedeschi
Tiffany Minx
Brittany O'Connell
Plot Summary
Phaedra is indeed a nasty spirit. This film dazzles you with a tale of a husband and his loving wife. Lately the husband (Peter North) has had a great deal of trouble sleeping. He wakes up in cold sweat, with the vague familiarity of a nightmarish slumber that seems to await him every night.
The misfortune of it all is the fact that he cannot remember his dreams, and so he sets out on a quest to conquer his proverbial "demons," and how right that terminology is. The story unfolds into an ambiguous romance and fuck-fest that is highly uncommon today. This movie is definitely a dream come true.
Movie Review
(Review was not available at the time of this article entry)
External Links