Thank you for over 9.4 million views of the SuccuWiki!
Midnight Craving
From SuccuWiki - The Wiki of the Succubi

For other uses of the word Succubus, see Succubus (disambiguation).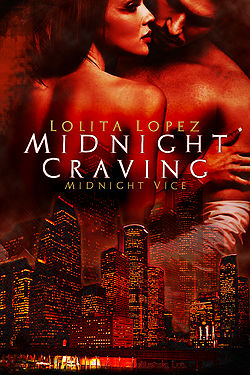 Midnight Craving is an eBook written by Lolita Lopez. It is the first book in a series that the author has called Midnight Vice. In this work, the main character Isla Alvarez is a half-Succubus trying to deal with her needs and wants.
Details
Title: Midnight Craving
Author: Lolita Lopez
Format: eBook Format
Publisher: Samhain Publishing, Ltd.
Language: English
ISBN-13: 978-1-60504-880-2
ASIN: B002XOTPZM
Release Date: January 19, 2010
Other Works in this Series
Synopsis
When the craving takes hold, the only thing to do is ride it out…
Midnight Vice, Book 1
Patrolling Houston's gritty supernatural underbelly has its perks. For Isla Alvarez, it's working alongside nephilim SWAT Officer Jace Lane. Ruggedly handsome and possessed of mad skills, Jace embodies everything she's ever wanted.
Unfortunately, the demonic blood pumping through her veins keeps them separated, since relationships between human descendants of archangels and demons aren't actively encouraged. Staying away from him, though, is impossible after she winds up on the receiving end of a nasty sexual-compulsion curse, courtesy of a sadistic vampiress. Suddenly Isla is overwhelmed with a life-threatening lust only Jace can sate.
Jace's principles were once strong enough to resist his longing for the alluring Isla, but in the face of her desperate craving, his desire breaks free—leaving him wondering if she's not the only one affected by the spell. He'd be more than happy to satisfy Isla's increasing need for sexual release, if they weren't in a race against time to reverse the curse before it turns deadly.
For Isla, it's not just her life she's worried about losing. It's her heart.
Book Review
At the time of this article's entry in the SuccuWiki there was no book review available. Tera has this work on her reading list and will review it as soon as possible
External Links