Thank you for over 5.1 million views of the SuccuWiki!
Luck of the Devil
From SuccuWiki - The Wiki of the Succubi

For other uses of the word Succubus, see Succubus (disambiguation).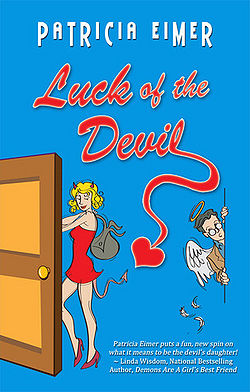 Luck of the Devil is a novel written by Patricia Elmer. It is described as being the first book in a series called Speak of the Devil by the author.. In this work, the main character Faith Bettincourt, is the Devil's daughter and has a roommate that is a half-succubus.
Book Details
Title: Luck of the Devil
Author: Patricia Elmer
Format: eBook and Paperback formats
Pages: 273
Publisher: Entangled Publishing
Language: English
ePub ISBN-13: 978-1-937044-10-7
Print ISBN-13: 978-1-937044-11-4
Release Date: August 2, 2011
Book Synopsis
Being the youngest daughter of the Devil isn't all it's cracked up to be. The days of teenage rebellion and vows of chastity made just to tick off her father are over, and now all Faith Bettincourt wants is a nice, quiet life. Unfortunately, thanks to the unexpected arrival of her demonically-downsized sister, a ditzy succubus roommate, and dear old Dad himself, Faith's plans for a relaxing vacation spent watching reruns go up in flames.
Now it's all Faith can do to keep the family reunion from Hell (literally) under wraps, and the angelically-inclined hottie across the hall from realizing there's something weird about his neighbor. And, thankfully, it's working. Until an angelic stalker shows up in a bid to steal her powers and take over the world.
Forget watching reruns. With the way things are going, Faith will need the luck of the Devil just to survive until Monday.
Book Review
At the time of this article's entry in the SuccuWiki, this work had not been released for review.
External Links