Thank you for over 12.9 million views of the SuccuWiki!
Lucifera
From SuccuWiki - The Wiki of the Succubi

For other uses of the word Succubus, see Succubus (disambiguation).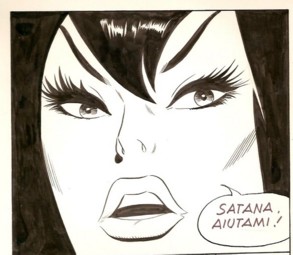 'Lucifera' is the eponymous anti-heroine of an Italian comic book popular in the seventies.
The 'Lucifera' character is a demoness/succubus dedicated to fighting the forces of Goodness. A frequent visitor to Hell, she also enjoys sending others there to be tormented. Her adventures are full of quite explicit, if humorous, eroticism and in one memorable scene she is shown fellating the devil himself. Other storylines involve Sado-Masochism, executions, impalement and even molestation by a giant spider.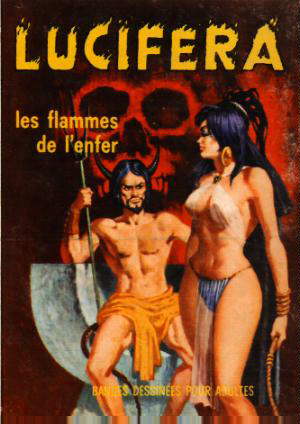 On the surface world she seems to inhabit a mythical and very violent Europe from the Middle Ages - populated by wenches, knights and three-headed dragon dogs.
The 'Lucifera' comic book was published by Ediperiodici and ran for 170 issues from 1971 to 1980. A French edition was also published by Elvifrance and ran for 99 issues from 1972 to 1980.
Artists who have worked on the 'Lucifera' series include Edoardo Morricone (a.k.a. Morrik, who later worked on other Italian comics such as Biancaneve, Satanik and Djustine), Leone Frollo and Tito Marchioro.
Lucifera is one of many such characters from the Italian 'fumetti' tradition. Other figures from the same era, and with similarly violent or erotic preoccupations, include Zora la Vampira, Maghella, Biancaneve, Vartan, Jacula and Sukia.
External links