December 1st, 2015 marks the SuccuWiki's Eighth Anniversary!
Lost Girl: The Game
From SuccuWiki - The Wiki of the Succubi
Lost Girl: The Game




Lost Girl: The Game Opening Screen

Developer(s)
Prodigy Pictures, Inc.
Publisher(s)

Prodigy Pictures, Inc.

Distributor(s)
iOS and Android App Stores
Series
Lost Girl
Version
1.0.0 (April 14, 2013)
Platform(s)

iOS and Android

Release date(s)

World Wide April 14, 2013

Latest release
1.2.0 / February 26, 2014

iOS Store Rating: (4.0)
499 Votes
As of February 26, 2014

Android Store Rating: (4.2)
2,091 Votes
As of February 26, 2014

Genre(s)
Fantasy
Role Playing
Mode(s)
Touch Screen
Media/Digital distribution
Downloadable Game
For other uses of the word Succubus, see Succubus (disambiguation).
For further on Bo, the succubus of the series, see her article in the SuccuWiki here. For a general discussion of Succubi and their mythos in the series, see that article here. For a detailed list of episodes of the series, see: List of Lost Girl episodes

Lost Girl is a Canadian developed and produced television series which premiered in the 2010 season on the television channel Showcase.
In conjunction with the airing of the television special episode Lost Girl ConFAEdential before the premiere of the Third Season, a mobile app, Lost Girl: The Game, was announced and was scheduled to be released in January 2013, but it was delayed. It was described as being a social experience that would connect fans internationally to the world of Lost Girl. The App was written by the show's writing staff, and featured an original storyline.
The players of the game created a customized Fae character which they used to navigate a mystery set in the world of Lost Girl. Users solved puzzles with the help of their favourite Lost Girl characters. The free App was to be available for download on iOS and Android devices via the showcase.ca website.[1] Prior to the Third Season Finale, on April 12th, 2013, it was announced on the Showcase.ca site that the App would be available on April 14th, 2013.[2]
The game was described as: "Just like Bo and her street savvy sidekick Kenzi, users can tag team with each other or with their favourite Lost Girl characters to solve puzzles and brain benders to score points and unlock levels."
The game became available at 12:01 AM on April 14th, 2013 on both the iOS and Android stores. The game itself was free but there was the option to make in-app purchases as well, though this was not necessary to play the basic game or progress through the levels.
Game Description

The game was rated as being medium maturity on the Android App Store and 12+ on the iOS App Store for "Infrequent/Mild Alcohol, Tobacco, Drug Use, Mild Cartoon or Fantasy Violence, Mild Mature/Suggestive Themes and Mild Profanity or Crude Humour."
The game was described on both app stores as follows:
Something is not right in the City: While the Light and Dark Fae continue to focus on their bitter rivalry, an ancient power is stirring, a great evil that will stop at nothing to step foot again and wreak havoc on the earth, and only you can help stop it. Lost Girl: The Game is a completely free mystery-style hidden object game based on the hit TV series Lost Girl. Making your way to the famed Dal Riata, a neutral ground and waystation for the supernatural creatures known as the Fae, you are drawn into a tale of intrigue and power. In Lost Girl, you can create your own supernatural Fae and step into a world where myths and legendary creatures live in secret alongside humans. Meet characters from the TV series as well as other players online, and work with them to overcome an unspeakable evil that threatens all of existence. Lost Girl is a never-ending game, additional Assignments, Story, Locations, and Characters are being added on a regular basis, so you will always have something new to look forward to.
While the basic game was free to download, there was additional content, such as clothing options, which were only unlockable by using coins or gems which were winnable in the game or available as an in-app purchase. The game progressed through a combination of puzzle solving and battle sequences which the player passed through to solve the storyline of the game.
The game was set during the third season of the series and players could explore the city of Lost Girl and several well known locations such as the Dal Riata among others. Cut scenes and interactive scenes allowed the players to interact with the main cast of the series as well. It was also possible to connect via the game interface with other players, to chat with them in the Dal Riata, and as well send them gifts or recruit them for help when required during a player's quest.
Version History
1.0.0 - Initial Release - April 14th, 2013
1.1.0 - Stability Update and New Content - April 17th, 2013
1.1.1 - Fixed the fight-related crash that has been affecting some players. Facebook & Friend Invite Feature should now work more consistently. Numerous performance & speed related issues fixed - April 25th, 2013
1.1.2 - Update included some changes to try and address some users losing their save files - May 23rd, 2013
1.1.3 - Update was to resolve issues with Facebook friending - July 2, 2013
1.1.4 - Update was to add Tamsin as a character to the game, ten new assignments and minor bug fixes - August 21, 2013
1.1.5 - Update was to add new assignments, the ability to delete user characters, and a better item search system - October 29, 2013
1.1.6 - Update was to add new characters and missions, some new Tamsin missions and a better interface for the game - November 27, 2013
1.1.8 - Update was to add new cases for the Agurzil storyline, a new Facebook Friend search, redesigned Friends Menu and numerous bug fixes - January 30, 2014
1.2.0 - Update was to and conclusion to the latest mystery and additional crash & bug fixes for iOS & older devices - February 26, 2014
In App Purchases
The game had the option to purchase Gemstones or Coins which could be used for premium items. Costs are listed in Canadian Dollars:
| Number of Gems | Cost | Number of Coins | Cost |
| --- | --- | --- | --- |
| 20 Gems | $2.99 | 2,500 Coins | $2.99 |
| 40 Gems | $5.49 | 5,000 Coins | $5.49 |
| 105 Gems | $10.49 | 12,500 Coins | $10.49 |
| 220 Gems | $20.99 | 30,000 Coins | $20.99 |
| 565 Gems | $49.99 | 175,000 Coins | $99.99 |
| 1200 Gems | $99.99 | | |
Game Play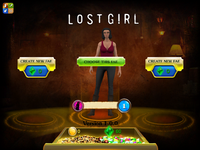 Opening
On first startup of the app, it progresses through a splash screen for the app, for Shaw Media, and then one for Showcase before a shortened version of the series opening is shown. Following this, the player generates their avatar for the game.
Avatar Selection
During the Avatar selection screens, the player selects from five possible Fae types: Succubus, Lycan, Oracle, Telepath, or Daoine Sidhe. Avatar name, gender, face style, skin color, hair color, hair style, and eye color are also selected before the opening of the game begins.
Entering the Game
Players are initially placed at the Dal Riata where they meet Trick, learn the rules of the game, and perform basic tasks which are important to game play. Following this introduction the actual game begins with various character interactions, games, battles and puzzles to be solved.
Promotion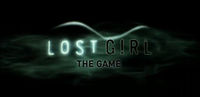 Showcase aired a short commercial which featured images of the game interspersed with scenes from the Third Season of the series. One of these scenes was when Bo showed Trick her cell phone which in the series held an image of The Morrigan Bo had used as "insurance" against The Morrigan trying to harm her. For the commercial a scene from the app was overlaid to make it appear that Bo had been playing the game. Another scene had Vex giving The Morrigan the same cell phone with another scene from the game appearing on it, but again was an edit of the original scene from the series where it showed the image that Bo took of The Morrigan. Both of these cut scenes were from the episode ConFaegion.
You can see that commercial here on YouTube.
In the United States, Syfy promoted the game as being released by Syfy in cooperation with Prodigy Pictures and no mention was made of Showcase's involvement in the app. Syfy also indicated that the app was developed by Complex Games. Syfy promoted the app as being the company's first ever entry into the mobile gaming space as well.[3]
Reception
Initial comments about the game were mixed but it received an initial rating of 4.5 stars out of 5 on the iOS App Store and 4.1 stars out of 5 on the Android App Store on the app's release date. While some players were pleased with the game, there were a various number of complaints. Many users complained of the app crashing or becoming unresponsive. Others were disappointed over the game itself, expressing that they "expected more" as the game was delayed in its release. Further complaints were directed towards the cost of in-app purchases which were seen as being excessive and from iOS users there were comments about the app pushing too many notifications that seemed unnecessary. Positive reviews included comments that the game was "addictive" and that the interaction with the series characters were well done. A large number of complaints were with regards to the app being slow to load screens and that during fight scenes there was a noticeable lag time in moves being applied. Also, some users indicated problems with Facebook integration and long delays in approvals being granted for co-play mode within the app.
A notice was pushed out by the developers in the mid-afternoon Eastern time on April 15th, 2013 that they were aware of the issues players were seeing and were going to release a new version as soon as possible to correct them. This update appeared on April 17th, 2013 and bore a version of 1.1.0. Following the update's release, the general consensus was that the app was greatly improved, with better response and actions. Some complaints remained with the cost of premium items but Facebook integration seemed to have been repaired, but there were still reported issues with that part of the app. The update caused the ratings for the app to move upwards from a below four star rating to a four star rating once more. However as all issues were not corrected, the game fell to a below four star rating.
Version 1.1.1 was released on April 25th, 2013 which promised to correct lingering issues with the app which included loading times, Facebook connection issues and general user complaints about the app. In spite of the improvements, many users continued to have an issue with the costs for premium items in the app. User complaints continued over general game play being uneven and that some goals in the game where extremely difficult to complete. Overall opinions varied, but in general most users of the app felt that it was not a good match with the series and further thought should have been put into the developers "building a game for gamers."
Version 1.1.2 was released on May 23th, 2013 which promised to correct lingering issues with the app which involved some users losing their save files.
Continued problems with Facebook integration resulted in Version 1.1.3 which was released on July 2, 2013. The update promised to correct these lingering issues with the app. However many users still indicated there were problems with Facebook connections and, as well, complaints of being directed to in-game purchases were seen as being excessive. No new levels or gameplay were added in the update.
On August 21, 2013, Version 1.1.4 was released which added Tamsin as an in-game character along with ten new player assignments and what was described as some various minor bug fixes. First impressions were that the new player assignments were welcome as the game needed as refresh for long time players although some complaints continued with regards to in-game purchases.
On October 29, 2013, Version 1.1.5 was released which added additional missions to continue game play including several new Tamsin missions. The option was added as well for players to be able to delete their characters from the game in order to add new characters if so desired. The in-game item search system was improved so that the chance of finding an item during a search was listed and it was also possible to improve the odds of finding an item by spending Fae energy to do so.
On November 27, 2013, Version 1.1.6 was released which added new characters and missions to continue game play including new Tamsin missions. As well the game interface was changed to streamline game play which reduced the size of the game download.
On January 30, 2014, Version 1.1.8 was released which added two new cases following the Agurzil storyline, a new Facebook Friend Search feature, a redesigned Friends Menu and numerous bug fixes including making it easier to dismiss allies in the game.
On February 26, 2014, Version 1.2.0 was released which Included the conclusion to the latest mystery in the game. There were also additional crash and bug fixes for iOS & older devices.
References
↑ http://www.showcase.ca/blogs/1263/showcase-puts-lost-girl-in-the-palm-of-fans-hands-with-new-mobile-app-launching-april-14-in-canada
External Links