Thank you for over 9.3 million views of the SuccuWiki!
Lilith Lingerie Set (Vendalia Foxtrot)
From SuccuWiki - The Wiki of the Succubi

For other uses of the word Succubus, see Succubus (disambiguation).

Vendalia Foxtrot is a Second Life skins and avatar designer. You can purchase various outfits, shoes, boots and other items to add to the avatar you use in the Second Life universe. This is a Lilith Lingerie Set that is available for purchase and use in the Second Life universe. All of the items can be modified that can be worn. Everything can also be copied in this set. The set comes with little light blue succubus wings, little lacey horns, arm and leg lace bands, a scripted sexy tail, and a lace body suit with lacey socks. Also, to show of your sexy legs, high heel shoes (stilettos) are included too. There is a shape included as well for quick fitting. There is a light blue and a black version of this skin available.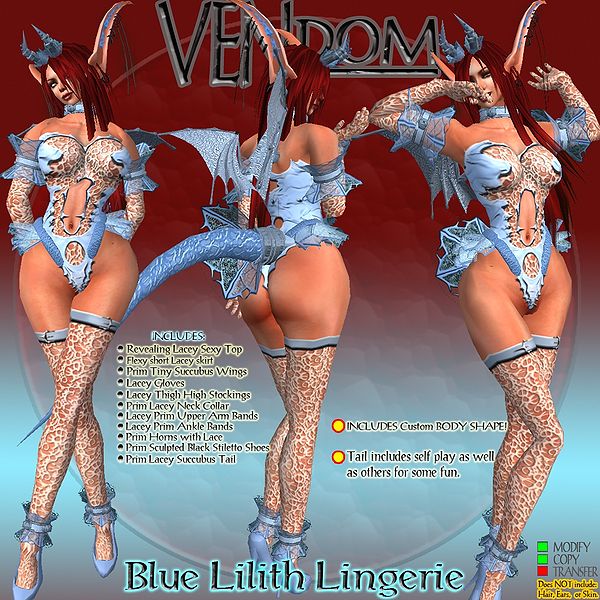 Lilith Lingerie Set
This set includes 11 items:
Revealing Lacey Sexy Top
Flexy Short Lacey Skirt
Prim Tiny Succubus Wings
Lacey Gloves
Lacey Thigh High Stockings
Prim Lacy Neck Collar
Lacey Prim Upper Arm Bands
Lacey Prim Ankle Bands
Prim Horns with Lace
Prim Sculpted Stiletto Heels
Prim Lacey Succubus Tail
Notes
Includes Custom Body Shape
Demon Tail: The tail is animated with a wag. Also, when someone touches it, they can choose from 6 different things to do to you. These would be Grab, Stroke, Fondle, Bite, Suck, and Lick. This tail also allows you to do these things to yourself as well.
External Links