Thank you for over 5.1 million views of the SuccuWiki!
Lilith (eNovel)
From SuccuWiki - The Wiki of the Succubi
For other uses of the name Lilith, see Lilith (disambiguation).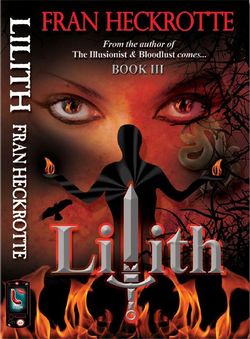 Lilith is an eNovel written by Fran Heckrotte. It is the third book in the author's series called the Illusionist Series.
Book Details
Name: Lilith
Author: Fran Heckrotte
Language: English
Publisher: L-Book ePublisher
eReader ISBN: 978-1-934889-07-7
Release Date: 2008
Summary
Yemaya, the Illusionist, and her journalist partner Dakota, find themselves embroiled in a search for the person responsible for the rape and torture of a young Carpi woman, attending a university in the States. When they decide to visit a local nightclub for women only, they find the owner and her employees unusual. Dakota feels mysteriously attracted to one of the clientele while Yemaya recognizes a kindred spirit-in Lilith, the club's owner. Spiritual ancestors, missing whores, a sadistic exporter and new acquaintances lead the two lovers into an adventure of biblical proportion.
Lilith, She was a demoness, as old as humanity itself. Now the owner of a women's only nightclub and part owner of the Sisterhood, a small group of whores who have banned together to create a better life for themselves, it was her job to protect those women who were putting so much trust in her. When a local pimp, decides to eliminate his competition Lilith and her two demon partners want revenge-- and no one knows better how to exact it than demons. This is a revelation of the past, the present and the events that forever changed the course of human history.
Book Review
At the time of this article's entry in the SuccuWiki, a book review was not available. TeraS has this novel on her reading list and will add a review when she is able.
Other Novels by Fran Heckrotte on SuccuWiki
External links