Lilith (Novel V)
From SuccuWiki - The Wiki of the Succubi
Lilith

Lilith eBook Cover,
written by Toby Tate
Author(s)
Toby Tate
Publisher
DarkFuse
Publication date
December 30, 2012
Media type
eBook
Paperback
Hardcover
Length
330 Pages
ISBN
978-1937771515 (Paperback)

ASIN
B00AV8SXKA (eBook)
For other uses of the word Succubus, see Succubus (disambiguation).
For other uses of the word Lilith, see Lilith (disambiguation).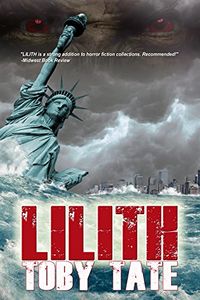 Lilith is a novel written by Toby Tate. In this work one of the characters is Lilith, who represents the classical myth in this work.
Overview
Title: Lilith
Author: Toby Tate
Published By: DarkFuse
Length: 330 Pages
Format: eBook, Paperback and Hardcover
ASIN: B00AV8SXKA (eBook)
ISBN-10: 1937771512 (Paperback)
ISBN-13: 978-1937771515 (Paperback)
Publishing Date: December 30, 2012
Plot Summary
Before evil had a name, there was Lilith.
Something has come aboard the U.S. Navy's newest state-of-the-art super carrier, the USS Gerald Ford, something supernatural and as ancient as time itself. And it's taking over the crew one by one.
Reporter Hunter Singleton and his wife Lisa, guests invited aboard to witness a routine training mission off the coast of North Carolina, soon learn that the CIA is onboard as well, and that some of the ship's crew are acting irrationally, even violently. When an unexpected monster hurricane slams New York, the ship rushes to assist in the aftermath, and Hunter, Lisa and the crew are faced with the terrifying realization that whatever has come aboard the Ford must be stopped before it is set free on the streets of Manhattan.
But how do they fight something beyond human comprehension? How do they kill something that may not even be alive?
The clock is ticking…and Time itself is running out.
Book Review
At the time of this article's entry in the SuccuWiki, no review was available. Tera has this work on her reading list and will review it shortly.
External Links