On May 4, 2016, the 3,900th article was added to the SuccuWiki!
Len
From SuccuWiki - The Wiki of the Succubi
This page is currently in creation and being actively worked on as a new article through a succession of edits. To help avoid confusion, the creator asks that for a short time this page not be taken as complete owing to its early stage of development.
A history of edits of this page can be found here.
For other uses of the word Succubus, see Succubus (disambiguation).

Len is a succubus character in the visual novel game Kagetsu Tohya (歌月十夜, Kagetsu Tōya?, lit. Ten Nights of the Verses and Moon) which is TYPE-MOON's sequel to their earlier dojin visual novel game, Tsukihime, released in August 2001. Len also appears as a playable character in the Melty Blood fighting game series.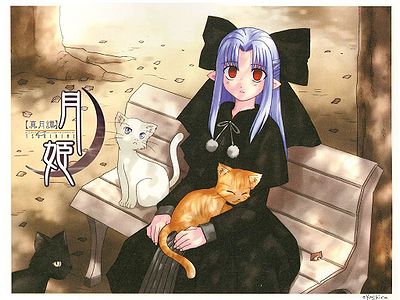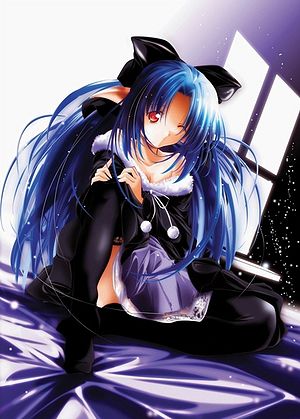 Character Statistics
Birthday: 9 September
Bloodtype: unknown
Height: 132 cm
Weight: 33 kg
63/48/61
Character History
Len is a Demon Succubus Familiar, one who manipulates dreams. Though her first real appearance is in Kagetsu Tohya, in which she is the main heroine, her dream manipulation is seen in Tsukihime when she causes Shiki to have a dream. For a time, she was under the care of Arcueid, but later established a contract with Shiki in Kagetsu Tohya. Len is silent and never speaks (albeit one occurrence before her fight with White Len in Melty Blood), and is shown to be very reserved and unimposing. She has shown, however, to be very moody at times, though she only shows this subtly, if at all. Many of Len's abilities in the game are derived from cats; indeed, in the Melty Blood manga, when she resided within Shiki's household, she demonstrated the ability to transform into a cat. She also has a fondness for cake, first introduced to her by Shiki. Although canonically unconnected to Kagetsu Tohya, it is implied that she has already established a contract with Shiki in MELTY BLOOD.
External Links