Thank you for over 12.9 million views of the SuccuWiki!
Là-Bas
From SuccuWiki - The Wiki of the Succubi

For other uses of the word Succubus, see Succubus (disambiguation).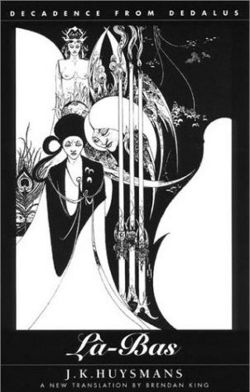 Là-Bas (English: Down There or The Damned) is a novel by the French writer Joris-Karl Huysmans, first published in 1891. It is probably Huysmans' most famous work after À rebours. Là-Bas deals with the subject of Satanism in contemporary France and the novel stirred a certain amount of controversy on its first appearance. It is the first of Huysmans' books to feature the character Durtal, a thinly disguised portrait of the author himself, who would be the protagonist of all Huysmans' subsequent novels: En route, La cathédrale and L'oblat.
Là-Bas was first published in serial form by the newspaper L'Écho de Paris, with the first installment appearing on February 15, 1891. It came out in book form in April of the same year; the publisher was Tresse et Stock. Many of L'Écho de Paris' more conservative readers were shocked by the subject matter and urged the editor to halt the serialisation, but he ignored them. Sale of the book was prohibited from French railway stations.
The plot of Là-Bas concerns the novelist Durtal, who is disgusted at the emptiness and vulgarity of the modern world. He seeks relief by turning to the study of the Middle Ages and begins to research the life of the notorious 15th-century child-murderer Gilles de Rais. Through his contacts in Paris (notably Dr. Johannes, modeled after Joseph-Antoine Boullan), Durtal finds out that Satanism is not simply a thing of the past but alive in modern France. He embarks on an investigation of the occult underworld with the help of his lover Madame Chantelouve. The novel culminates with a description of a black mass. This novel is one of the key texts of the Decadent movement of the 1890s and contains satanists, occultists, incubi (male demons), succubi (female demons) and intellectuals.
Details
Title: Là-Bas
Author: J.-K. Huysmans
Format: Paperback
Publisher: Penguin Classics
Pages: 320
Language: English
ISBN-10: 0140447679
ISBN-13: 978-0140447675
Release Date: January 29, 2002
Synopsis
J.-K. Huysmans's gaudy, shocking, and largely autobiographical novel, The Damned (Là-Bas) was quickly condemned and just as quickly achieved cult status. It follows Durtal, a shy, censorious man, who is writing a biography of Gilles de Rais, the fifteenth-century nobleman, child-murderer, and supposed model for "Bluebeard." Bored and disgusted by the vulgarity of everyday life, Durtal seeks spiritual solace by immersing himself in another age. But when he meets the exquisitely evil Madame Chantelouve, he is drawn inextricably into the twilight world of black magic and erotic devilry in fin-de-si&egravecle Paris.
Book Review
A review of this novel can be found at: The Guardian Newspaper Website
Sources
Robert Baldick The Life of J.-K. Huysmans (OUP, 1955; revised by Brendan King, Dedalus, 2006)
Là-bas: A Journey into the Self translated by Brendan King (Dedalus, 2001)
Là-Bas translated as The Damned by Terry Hale (Penguin Classics, 2001)
External Links