Thank you for over 17 million views of the SuccuWiki!
Kiss and Hell
From SuccuWiki - The Wiki of the Succubi

For other uses of the word Succubus, see Succubus (disambiguation).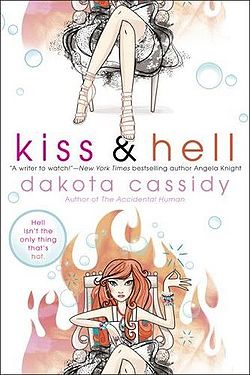 Kiss and Hell is an romance novel written by Dakota Cassidy. It is the first book in the Hell series. The other book in the series is My Way To Hell. In this series, various demonic beings appear that can be described as being sex demons or Succubi or Incubi in nature.
Overview
Title: Kiss and Hell
Author: Dakota Cassidy
Published By: Berkley Trade
Length: 352
Format: Paperback
ISBN-10: 0425227855
ISBN-13: 978-0425227855
Publishing Date: June 2, 2009
Other Books in the Hell series on SuccuWiki
Plot Summary
Delaney Markham doesn't just see dead people, she hears them too. And FYI-communicating with tortured souls all day can really wreak havoc on your love life. Sans boyfriend, Delaney makes the best of her gift by holding séances to make ends meet-that is until one incredibly annoying ghost just won't go away.
Besides being sinfully hot-in a college professor sort of way-all signs point to Clyde Atwell being much more than the ordinary spirit. In fact, he's a newbie demon whose first assignment is to take Delaney back down to hell with him. Yeah, like that's going to happen on the first date.
Book Review
The following book review is from the Amazon.com link in the External Links below:
5 out of 5 stars
Reviewed On: July 31, 2009
Reviewed By: Tina
Delaney Markham sees and talks to dead people. She's channeled this gift into crossing over spirits and holding séances to barely eke out a living. One night while trying to reunite a couple with their deceased loved one, a man comes into Delaney's life having the audacity to wear her pink bath robe! Clyde Atwell is clearly not in his element as he proceeds to throw a money wrench into Delaney's séance, demanding she get rid of her clients and listen to him. What will be Delaney's reaction be when Clyde informs her he's her Demonic ticket to hell?
Strap on your demon-kicking boots and get ready for a bumpy hilarious ride in Dakota Cassidy's Kiss and Hell! Delaney is one heck of a heroine, mommy to a pack of motley canines, just trying to balance the voices in her head. When Clyde literally drops into her life, she has serious misgivings about him. Given her best friend, Marcella, is also a Demon, Delaney has a hard time believing Clyde at first. As she works to figure out the mystery which is Clyde Atwell, she's ecstatic to finally find a man who "gets" her. Who else besides her brother, Kellen, and Marcella have readily accepted her unconditionally? Clyde not only understands her but gets under her skin in oh, so delightful ways, showing he's much more than a geek at heart.
If you love quirky characters like me, then Ms. Cassidy's Kiss and Hell needs to be added to your buy list today. Go on a wild, fun-filled ride as Delaney and Clyde team up forces to kick demon-kind to the curb, swapping trivia and red-hot lovin' well into the night!
External Links