Thank you for over 9.3 million views of the SuccuWiki!
Journey to Redemption or Perdition?
From SuccuWiki - The Wiki of the Succubi

For other uses of the word Succubus, see Succubus (disambiguation).
Journey to Redemption or Perdition? is a novel written by Rosa Clark. In this novel is a succubus named Lilith whom is a major character in the story.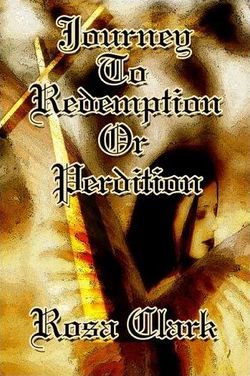 Details
Title: Journey to Redemption or Perdition?
Author: Rosa Clark
Format: Paperback
Publisher: PublishAmerica
Pages: 264
Language: English
ISBN-10: 1413778127
ISBN-13: 978-1413778120?
Release Date: October 17, 2005
Synopsis
Journey to Redemption or Perdition? On the surface it focuses on an old theme of good vs. evil, but it is much more philosophical than that. Derdekea, for loving Lucifer, became a fallen archangel; her penance, to roam the earth as protector of mankind. On her journey she encounters Joseph, who is not what he seems. Together they continue on a vaguely understood, surmised common path. Many signs are misread and misconstrued, due to neither one of them being aware of the Creator's ultimate plan.
Only when they are confronted by Lilith (demoness sworn to the destruction of mankind) and Leviathan (demon of the watery world), Satan's emissaries on Earth, do they begin to make sense of the puzzle, only to be confronted with another maze within. The story is filled with celestial beings, magical characters, mutated creatures and lost, tortured souls, which cannot be aptly credited in this short analysis.

Book Review
At the time of this article's entry in the SuccuWiki there was no review available.
External Links