Jodi Lyn O'Keefe
From SuccuWiki - The Wiki of the Succubi
Jodi Lyn O'Keefe

Born



Cliffwood Beach, New Jersey, United States

October 10, 1978
Other names
Jodi O'Keefe
Occupation
Actress, model, fashion designer
Years active
1995–present
Known for
Lilith in Soul Fire Rising
Jodi Lyn O'Keefe (born October 10, 1978) is an American actress and model, who at age 17 portrayed Cassidy Bridges on Nash Bridges. She is also known for her role on Prison Break as Gretchen Morgan, a.k.a. "Susan B. Anthony". In 2010, she appeared in the web series Soul Fire Rising as the character Lilith Reborn for three episodes.
Early life
She was born in Cliffwood Beach, New Jersey, the daughter of Noreen, a homemaker, and Jack O'Keefe, a director of labor relations for Merck.[1] She is of Irish, Czech, Austrian, Polish and Swedish ancestry.[2] When she was a child, the youngest of three sisters, she had a bowl haircut and was self-described as a "dork". Her older sister was a model and she decided that she wanted to do the same. She did, and says the modelling job brought her more confidence and more friends.[3]
Career
Midway through junior year high school, she left school to star on the soap opera Another World, playing Marguerite "Maggie" Cory. She then landed a role on Nash Bridges, playing Cassidy, the daughter of Don Johnson's title character. She and her mother moved to Hollywood soon after, and Jodi completed her schooling by mail.
She made her big screen debut in 1998 in Halloween H20: 20 Years Later and later starred in such films as The Crow: Salvation, Whatever It Takes and Devil In The Flesh 2. In 1999, she starred in the teen film She's All That alongside Freddie Prinze Jr and Rachael Leigh Cook. When asked if it was hard to play her character, a high school prima donna, she replied, "Everybody knew a Taylor Vaughan in high school. Working in show business, you meet girls like that every day."
O'Keefe worked on movies and Nash Bridges until the series ended in 2001. Later films she has appeared in include Out for Blood where she played a vampire named Layla Simmons and Venice Underground. In 2005, she appeared for three episodes in the first season of Boston Legal. She appeared in the 3 Doors Down's video "Let Me Go", alongside Jesse Metcalfe of Desperate Housewives. She joined the cast of Prison Break in 2007, appeared in episodes of the television series' Charmed, The Evidence, Two and a Half Men, The Big Bang Theory, Dharma & Greg and Tru Calling. In 2009 she lent her voice to the standalone addon of the video game Command & Conquer Red Alert 3: Uprising. On August 14th, 2010 Jodi Lyn O'Keefe appeared as Kylie Burch in the Hallmark Original Movie Class, and she also appeared in the web series Soul Fire Rising as Lilith Reborn for three episodes. In 2011, she started her own clothing line called Queen George Clothing and she also had a guest role as Isabella in Two and a Half Men. In 2012 she had a guest role in "The Finder" and was involved in many other projects.
Succubus Character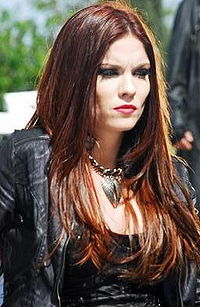 She played the role of the succubus character Lilith, credited as Lilith Reborn, for three episodes of the Soul Fire Rising web series
Filmography
Film
Year
Title
Role
Notes
1998
Devil in the Flesh 2
Tracey Carley
1998
Halloween H20: 20 Years Later
Sarah Wainthrope
Film Debut
1999
She's All That
Taylor Vaughan
2000
The Crow: Salvation
Lauren Randall
Whatever It Takes
Ashley Grant
Devil in the Flesh 2
Debbie Strong /
Tracy Carley
aka Teacher's Pet
2002
Falling in Love in Pongo Ponga
Shawnee
Short Film
2003
Red Rover
Kylie Logan
2004
Out for Blood
Layla Simmons
aka Vampires:
Out for Blood
Mummy an' the Armadillo
Jackie
2005
Venice Underground
Tyler
Three Wise Guys
Mary Ann Davidson
2007
American Identity
Lyndsey Simpson
Short Film
2009
Command & Conquer:
Red Alert 3: Uprising
Kelly Weaver
Prison Break: The Final Break
Gretchen Morgan
2010
Hallmark Original Movie Class
Kylie Burch
2011
Exposed
Emily Bennett
2012
Frozen Ground
Chelle Ringell
A Nanny's Revenge
Gina Wright
Television
Year
Title
Role
Notes
1995
Another World
Maggie Cory #4
6 episode
1996-2001
Nash Bridges
Cassidy Bridges
76 episodes
1999
Happy Hour
Herself
1 episode
2002
Dharma & Greg
Simone
2 episodes
George Lopez
Campbell
2 episodes
2003
The Pool at Maddy Breaker's
Maddy Breaker
1 episode
2004
Tru Calling
Candace Aimes
1 episode
The Help
Becky Wiggins
1 episode
Charmed
Spider Demon
1 episode
2004-2005
Boston Legal
Nora Jacobs
3 episodes
2004-2011
Two and a Half Men
Gail/Isabella
4 episodes
2005
Eve
Rita's stepmother
1 episode
2006
The 12th Man
Lindsay
1 episode
Halloween: 25 Years of Terror
Herself
1 episode
The Evidence
Officer Jackie Kazaris
5 episodes
Criminal Minds
Agt. Amanda Gilroy
1 episode
2007
The Call
Jenna 'Kinky' Kincaid
1 episode
CSI: NY
Melodee Constanza
1 episode
Raines
Angelina Billings
1 episode
2007-2009
Prison Break
Susan B.Anthony
/ Gretchen Morgan
32 episodes
2009
The Big Bang Theory
Mikayla
Season 2 episode 21
2010
Lost
Ava
1 episode
Soul Fire Rising
Lilith Reborn
3 episodes
2011
Law & Order: LA
Jenn Mackie
1 episode
2012
The Finder
Lisa / Mandy
1 episode
Castle
Kristina Coterra
1 episode
References
External links