Thank you for over 5.1 million views of the SuccuWiki!
It Came Like a Thief in the Night
From SuccuWiki - The Wiki of the Succubi

For other uses of the word Succubus, see Succubus (disambiguation).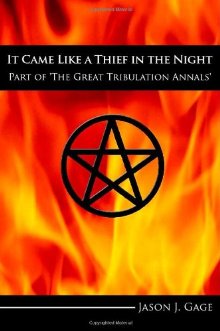 It Came Like a Thief in the Night is a novel written by Jason J. Gage. In this novel the main characters face Succubi as one of their challenges.
Details
Title: It Came Like a Thief in the Night
Author: Jason J. Gage
Format: Paperback
Publisher: Dorrance Publishing
Pages: 212
Language: English
ISBN-10: 1434994228
ISBN-13: 978-1434994226
Release Date: June 12, 2009
Synopsis
A sect of pious knights called the Celestial Knights is imprisoning the Anti-Christ. After centuries of captivity, the favoured son of Satan manages to escape from his five-century banishment. The Anti-Christ emerges into a world that has drastically changed. Seeing the danger that the world is in, the Celestial Knights, the protectors of humanity, embark on a dangerous journey to the planet Hell.
They arrive on the continent Oblivion, where they must reach the Lake of Fire and mine the magical hell-fire metal, which can slay demons. Unbeknownst to the knights, the Anti-Christ joins forces with the Beast of the Apocalypse and his malicious harlot. Secretly they build demonic forces on Earth to destroy the pious knights, the only protectors of humanity. The story builds to a cataclysmic ending and a new beginning for all humanity.
Book Review
No review was available at the time of this article's addition to the SuccuWiki.
External Links