Thank you for over 12.9 million views of the SuccuWiki!
Insatiable (Novel)
From SuccuWiki - The Wiki of the Succubi

For other uses of the word Succubus, see Succubus (disambiguation).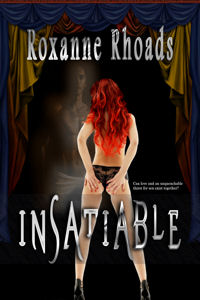 Insatiable is a novel written by Roxanne Rhoads. In this novel the main character discovers she is a Succubus and what that means.
Details
Title: Insatiable
Author: Roxanne Rhoads
Format: Paperback
Publisher: Eternal Press
Pages: 46
Language: English
ISBN-10: 1770650075
ISBN-13: 978-1770650077
Release Date: December 7, 2009
Synopsis
Scarlett has an extraordinary appetite for sex; a completely insatiable need. Unfortunately, she grew up in a small town where women like her were frowned upon and treated badly-and her sexual escapades did not go unnoticed.
So when Scarlett decides to pack up and move, the last thing she expects is to find in her new city is Marcello, the most beautiful and erotic man she has ever laid eyes on and who seems to have an equal appetite for the pleasures of the flesh. Despite only ever needing sex in the past, Scarlett soon finds that Marcello leaves her wanting more.
But can love and her unquenchable thirst for sex exist together? Can he accept her for who and what she really is and find a way to let their passions sizzle for more than just a weekend?
Book Review
No review was available at the time of this article's addition to the SuccuWiki. Book will be reviewed by TeraS in the near future.
External Links