Thank you for over 12.9 million views of the SuccuWiki!
Infernal Desires (eBook)
From SuccuWiki - The Wiki of the Succubi
For other uses of the word Succubus, see Succubus (disambiguation).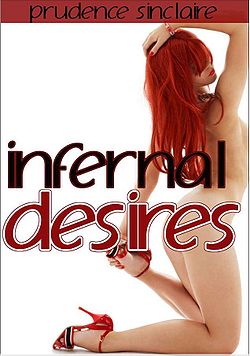 Infernal Desires is an eNovel written by Prudence Sinclaire. In this work, the main character Victoria, discovers that she is a Succubus and all of that means to her life and love.
Overview
Title: Infernal Desires
Author: Prudence Sinclaire
Published By: Amazon Digital Services
Format: eBook
Length: Novella (4,300 Words)
ASIN: B0075LYLT8
Publishing Date: February 3, 2012
Plot Summary
Victoria had never been so embarrassed as the night she almost ate her boyfriend's soul. After a quick talk with her mother, Vicki learns she's a succubus who's just come into her powers. As Vicki struggles to control her newfound abilities, will she remain true to her human intentions or will she give in to her demonic lust?
Book Review
At the time of this article's entry in the SuccuWiki, there was no review available. Tera has purchased this work and will review it as soon as possible.
External Links