Incubus Mine
From SuccuWiki - The Wiki of the Succubi
Incubus Mine



Incubus Mine eBook Cover, written by Ophelia Upmoore

Author(s)
Ophelia Upmoore
Publisher
Dominant Other Press
Publication date
May 9, 2012
Media type
eBook
Length
17 Pages
ASIN
B0081WZA5O
Preceded by
Dom of my Dreams
Followed by
Dreams of Domination
For other uses of the word Incubus, see Incubus (disambiguation).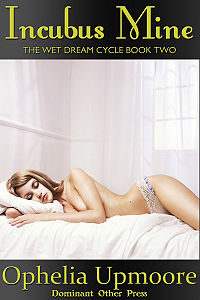 Incubus Mine is an eBook written by Ophelia Upmoore. In this work, the character Leonard is an Incubus. This work is no longer available, but a similar work by this author can be found in Dreams of Domination.
Overview
Title: Incubus Mine
Author: Ophelia Upmoore
Published By: Dominant Other Press
Length: 17 Pages
Format: eBook
ASIN: B0081WZA5O
Publishing Date: May 9, 2012
Other Works in this Series on SuccuWiki
Plot Summary
The Wet-Dream cycle is an erotic paranormal excursion into the subconscious land of dream. Leonard discovers the ability to enter the dreams of others, a power he uses to explore fantasies that he'd never dare to live out in real-life. An erotic take on Freud and Jung's theories of communal dreaming with overtones of dominance and submission.
Now looking for a new job, Leonard succumbs to the temptation to use his dream-powers to have sex with Emma, the manager at the staffing firm he's interviewed with. Much to his horror, she confronts him about it the next day.
Even more surprisingly, she turns out to be an expert on lucid dreaming, turned on by the possibilities Leonard's dream-walking has to offer. But can he trust her enough to take her up on the offer to better control his powers?
Book Review
At the time of this article's entry in the SuccuWiki, there was no review available. Tera has this work on her reading list and will review it as soon as possible.
External Links