Incubus (eBook X)
From SuccuWiki - The Wiki of the Succubi
Incubus

Incubus Original eBook Cover,
written by Raine Weaver
Author(s)
Raine Weaver
Publisher
Loose Id LLC (Original)
Amazon Digital Services (Reissue)
Publication date
June 21, 2005 (Original)
March 12, 2016 (Reissue)
Media type
eBook
Length
68 Pages
ASIN
B01CXC66KA
For other uses of the word Incubus, see Incubus (disambiguation).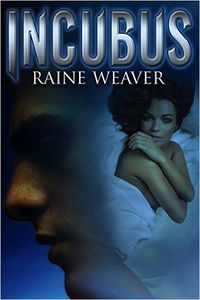 Incubus is an eBook written by Raine Weaver. In this work the character Gabriel is Incubus-like in nature.
Overview
Title: Incubus
Author: Raine Weaver
Published By: Loose Id LLC (Original), Amazon Digital Services (Reissue)
Length: 68 Pages
Format: eBook
ASIN: B01CXC66KA
Publishing Date: June 21, 2005 (Original), March 12, 2016 (Reissue)
Plot Summary
Serafina Fisher is having a little trouble sleeping.
It may be because she's on the verge of breaking up with her fiancé, who can't keep it in his pants. Her insomnia could be the result of finally accepting that love is a fairy tale and she must settle for cold, dreary reality. It might be because she's virtually stranded in a strange cabin in the mountains--a pagan place with an invitingly sinful history that whispers secrets in the dead of night.
She may be getting shadows under her eyes because thoughts of Gabriel Manning, the gorgeous, sexy stranger she's just met, are driving her to distraction. Gabriel, her fiancé's mysterious uncle, who makes no secret of his desire to steal her away. Or it may be because an unseen being of shadow and dreams visits her nightly, ravishing her body and driving her to heights of erotic intensity such as she's never known.
But Sera Fisher is having a little trouble sleeping…
Book Review
At the time of this article's entry in the SuccuWiki, there was no review available. Tera has this work on her reading list and will review it as soon as possible.
External Links