In the Company of Witches
Jump to navigation
Jump to search
In the Company of Witches



In the Company of Witches Original Book Cover, written by Joey W. Hill

Author(s)
Joey W. Hill
Publisher
Berkley (Original Release)
Story Witch Press (Reissue)
Publication date
May 1, 2012 (Original Release)
April 6, 2018 (Reissue)
Media type
eBook
Hardcover
Paperback
Mass Market Paperback
Length
352 Pages (Original Release)
329 Pages (Reissue)
ISBN
978-0425250846 (Mass Market Paperback) (Original Release)
978-1942122746 (Mass Market Paperback) (Reissue)
ASIN
B007AH49VW (Original Release)
B07C11CGS2 (Reissue)
Preceded by
Something About Witches
For other uses of the word Succubus, see Succubus (disambiguation).
For other uses of the word Incubus, see Incubus (disambiguation).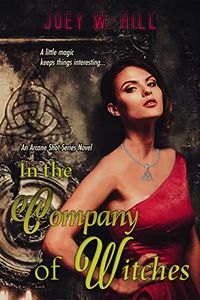 In the Company of Witches is a novel by Joey W. Hill. It is the second work in the Arcane Shot series by this author. In this work, the character Raina is part Succubus and another character is described as being an Incubus.
Overview
Title: In the Company of Witches
Author: Joey W. Hill
Published By: Berkley (Original Release), Story Witch Press (Reissue)
Length: 352 Pages (Original Release), 329 Pages (Reissue)
Format: eBook, Hardcover, Paperback and Mass Market Paperback
ASIN: B007AH49VW (Original Release), B07C11CGS2 (Reissue)
ISBN-13: 978-1617939716 (Hardcover) (Original Release)
ISBN: 978-0425250846 (Mass Market Paperback) (Original Release), 978-1942122746 (Mass Market Paperback) (Reissue)
Publishing Date: May 1, 2012 (Original Release), April 6, 2018 (Reissue)
Other Works in this Series on SuccuWiki
Plot Summary
All witch and part succubus, savvy businesswoman Raina has converted a Southern plantation house into an extremely profitable old-fashioned bordello. Because of her abilities as a witch, the demons under Raina's protection can feed off the sexual energy of their clients without killing them—definitely a good thing for repeat business.
But when a rogue incubus shows up on Raina's doorstep begging for asylum, the witch's well-run business is put in jeopardy. The incubus has stolen an object of great power from Lucifer, and Underworld Dark Guardian Mikhael will do anything to get it back—even if it means incinerating the incubus on Raina's porch to get the answers he seeks.
Not to be trifled with, Raina enters a dangerous match of wits with Mikhael to achieve their mutual goals—only to discover that the reluctant attraction between them is the most hazardous game of all…
Book Review
At the time of this article's entry in the SuccuWiki there was no review available. Tera has this work on her reading list and will review it as soon as possible.
External Links