Thank you for over 5.1 million views of the SuccuWiki!
Hunting for Possibilities
From SuccuWiki - The Wiki of the Succubi

For other uses of the word Succubus, see Succubus (disambiguation).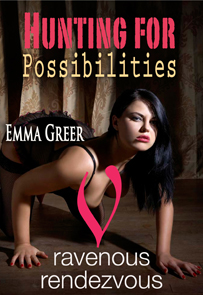 Hunting for Possibilities is an eNovel written by Emma Greer. The story follows the life of a succubus named Ti.
Overview
Title: Hunting for Possibilities
Author: Emma Greer
Published By: Ravenous Romance
Format: EBook
Pages: 267
-ASIN: B003R0LV7Q
ISBN 13: 9781607773276
Publishing Date: March 28, 2010
Synopsis
Always hunting for her next fix, Ti spends her life feeding off the sexual energy of humanity, and nothing gives her a better fix than sex. Although she's sampled many different types of men, one type has always eluded her - the one who would be able to stay. While out hunting one night, her world is turned upside down when a sexy stranger provides her the feast of her life and the possibility of something more...
Escape to a world of danger and pleasure with this sizzling tale of succubus love and lust!
Book Review
At the time of this article's entry in the SuccuWiki, no review was available. Tera has this book on her reading list and will review it shortly.
External Links