Thank you for over 5.1 million views of the SuccuWiki!
Hunted
From SuccuWiki - The Wiki of the Succubi

For other uses of the word Succubus, see Succubus (disambiguation).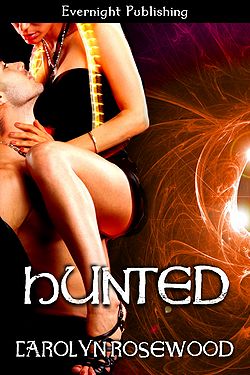 Hunted, is a novel written by Carolyn Rosewood. It is part of the Seduced by a Demon series by this author. In this work, some succubus and Nephilim characters appear. The author has also released two other works with some succubus or Nephilim characters in them: The Last Soul and Playing For Keeps, and the character Jahi appeared in the work The Last Soul.
Details
Title: Hunted
Author: Carolyn Rosewood
Format: eBook
Publisher: Evernight Publishing
Length: 30.000 Words
Language: English
ASIN: B005CWJHJQ
Release Date: July 14, 2011
Other Works in this series on SuccuWiki
Synopsis
For the past four hundred years, Jahi Wickes has made forged documents and credit cards for the female demons who seduce men into signing away their souls. While enjoying the parades at Mardi Gras, she's ambushed by two angels. One is her former guardian angel, and the other is the Nephilim who's tracking him.
Dagon has been chasing Vassago for three years. His first big break comes in the form of a cute, sexy demon. When he learns the real reason Vassago is hunting her, Dagon has more trouble than he bargained for. Not only was Vassago sent to guard souls in Purgatory after screwing up his assignment with Jahi, but the person who paid him to destroy her is one of her fellow demons.
Book Review
No reviews were available at the time of this article's creation in SuccuWiki. Tera will be reviewing it in the near future.
External Links