On May 4, 2016, the 3,900th article was added to the SuccuWiki!
Holy Sin (eBook)
From SuccuWiki - The Wiki of the Succubi
Holy Sin



Holy Sin Revised eBook Cover, written by Jenna Wells

Author(s)
Jenna Wells
Series
Sin
Publisher
Amazon Digital Services
Publication date
June 23, 2014
Media type
eBook
Length
74 Pages
ASIN
B00L8I9JMI
For other uses of the word Succubus, see Succubus (disambiguation).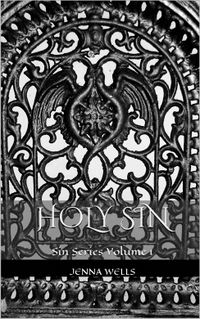 Holy Sin is an eBook written by Jenna Wells. It is the first work in the Sin series by this author. In this work the character Naamah is a Succubus, also referring to herself as being one of the Lillin.
Overview
Title: Holy Sin
Author: Jenna Wells
Published By: Amazon Digital Services
Length: 74 Pages
Format: eBook
ASIN: B00L8I9JMI
Publishing Date: June 23, 2014
Other Works in this Series on SuccuWiki
Plot Summary
She doesn't consider herself a succubus, although that is what folklore calls her. Naamah calls herself Lillin, of the children of Lilith, and sees no reason why she should be confined to the pits of Hell because of an accident of birth.
So when the Dark Lord of the Underworld himself offers her an opportunity for freedom, she takes it. How hard could it really be to permanently steal Father Michael McConnell's soul?
But the longer she lives above the earth, the more she longs to stay. And who said that morals were only for the angels? The more Naamah tries to seduce Father Michael, the more she grows to love him, and soon she'll be faced with the decision of making him hers, or saving his eternal soul and damning her own.
Book Review
At the time of this article's entry in the SuccuWiki, no review was available. Tera has this work on her reading list and will review it shortly.
External Links