Thank you for over 12.9 million views of the SuccuWiki!
Have Demon Will Travel
From SuccuWiki - The Wiki of the Succubi

For other uses of the word Succubus, see Succubus (disambiguation).
Have Demon Will Travel is a novel written by John Brosnan.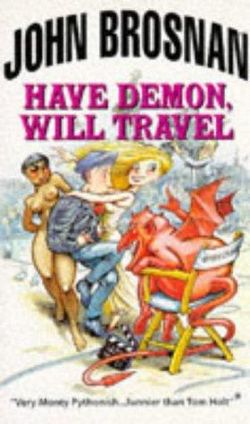 Details
Title: Have Demon Will Travel
Author: John Brosnan
Format: Mass Market Paperback
Publisher: Random House (UK)
Pages: 256
Language: English
ISBN-10: 0099512319
ISBN-13: 9780099512318
Release Date: April 18, 1996
Synopsis
A sequel to "Damned and Fancy". There's a naked Succubus in his bathroom, a fairy-tale princess in his kitchen, and a foul-mouthed demon in his fridge. Travis Thomson thought that, having returned from Samella, his troubles were over, but discovers that most of them have accompanied him home.