Hard Day's Knight
From SuccuWiki - The Wiki of the Succubi
Hard Day's Knight



Hard Day's Knight Original Book Cover, written by John Hartness

Author(s)
John Hartness
Series
Black Knight Chronicles
Publisher
Falstaff Books
Publication date
October 21, 2010
Media type
Paperback
eBook
Length
176 Pages
ISBN
978-1453873250
ASIN
B004GB17G0
For other uses of the word Succubus, see Succubus (disambiguation).
For other uses of the name Lilith, see Lilith (disambiguation).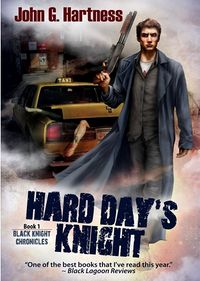 Hard Day's Knight is a novel written by John Hartness. It is the first work in the The Black Knight Chronicles by this author. In this work, the character Lilith has many of the aspects, powers and actions of Lilith as a Succubus.
Overview
Title: Hard Day's Knight
Author: John Hartness
Published By: Falstaff Books
Length: 176 Pages
Format: Paperback & eBook
ASIN: B004GB17G0
ISBN-10: 1453873252 (Paperback)
ISBN-13: 978-1453873250 (Paperback)
Publishing Date: October 21, 2010
Plot Summary
In the first volume of The Black Knight Chronicles, detectives Jimmy Black and Greg Knightwood investigate a series of mysterious disappearances with the help of the friend, Father Mike. The investigation is hampered by interference from the police, a dozen marauding zombies, a middle-aged necromancer, and the fact that our heroes can only look for clues by night. Because they're vampires. Vampire detectives kicking zombie butt all over town, what could be better?
Book Review
At the time of this article's entry in the SuccuWiki, no review was available. Tera has this work on her reading list and will review it shortly.
External Links