On May 4, 2016, the 3,900th article was added to the SuccuWiki!
Good Intentions (eBook)
From SuccuWiki - The Wiki of the Succubi
Good Intentions



Good Intentions Revised eBook Cover, written by Elliott Kay

Author(s)
Elliott Kay
Publisher
Amazon Digital Services
Publication date
June 3, 2011
Media type
eBook
Length
556 Pages
ISBN
97-81458056733
ASIN
B0054E8QYE
Followed by
Natural Consequences
For other uses of the word Succubus, see Succubus (disambiguation).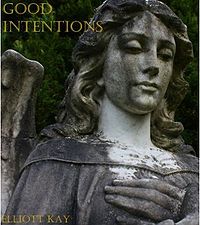 Good Intentions is an eBook written by Elliott Kay. In this novel a Succubus named Lorelei appears as one of the main characters.
Overview
Title: Good Intentions
Author: Elliott Kay
Published By: Amazon Digital Services
Format: eBook
Length: 556 Pages
ASIN: B0054E8QYE
ISBN: 97-81458056733
Publishing Date: June 3, 2011
Other Works in this Series on SuccuWiki
Plot Summary
He knew it was a dumb stunt when he thought of it. Consigned to the doldrums of community college, though, Alex Carlisle figures he has nothing to lose. A midnight run through a cemetery to impress a couple of girls is hardly the stuff of legend, but Alex is desperate to push back against the crushing mediocrity of life after high school.
Then he stumbles upon the ritual, and the cultists, and two bound and bloodied women. Alex intervenes, but when the ritual blows up in his face, he finds himself mystically bonded to them both: Rachel and Lorelei, an angel and a succubus. Amused by this twist of fate, Rachel leaves Alex to adjust to his new life as the reluctant and very nervous master of a demon seductress. It's hardly the sort of challenge a guy can face with dignity when he still lives at home with his mom.
Yet after millennia of tempting men to their doom, Lorelei finds herself equally challenged by her morally upright young master. Her mere presence draws all manner of creatures of the night into Alex's life, turning every night into a battle for survival...but the longer she's with him, the less she wants to leave. And all the while, Alex is stalked by a guardian angel who is anything but virtuous...
Book Review
At the time of this article's entry in the SuccuWiki, no review was available. Tera has this work on her reading list and will review it shortly.
External Links