Thank you for over 12.9 million views of the SuccuWiki!
Forbidden: The Revolution (Novel)
From SuccuWiki - The Wiki of the Succubi

For other uses of the word Succubus, see Succubus (disambiguation).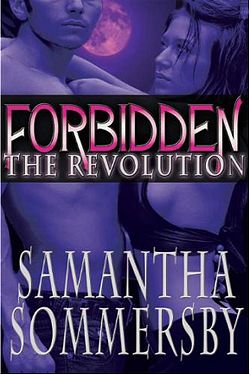 Forbidden: The Revolution is a fantasy novel by Samantha Sommersby. It is the third book in the Forbidden series by this author which includes the books: Forbidden: The Temptation, Forbidden: The Revolution, Forbidden: The Awakening, and Forbidden: The Claim. In this story, the character Luna is a Succubus.
Details
Title: Forbidden: The Revolution
Author: Samantha Sommersby
Format: Paperback & eBook editions
Publisher: Samhain Publishing, Ltd.
Pages: 224
Language: English
ISBN-10: 9781605048147
ISBN-13: 978-1605048147
ASIN: 1605048143
Release Date: September 7, 2010 (Paperback), October 23, 2009 (reissue) (eBook)
Book Review
The following review is from the Amazon.com link in the External Links Below:
5 out of 5 stars
5 blue ribbons from Romance Junkies
Reviewed On: March 8, 2008
Reviewed By: C. Dionne

Dell Renfield is in big trouble, Not the legal sort of trouble but woman trouble. Normally, finding a woman who turns him on isn't a big deal but Alex calls to him in a huge way. He finds himself wanting to `taste' her and as a vampire who has never drunk blood, the feelings she's arousing in him are disconcerting at best. To complicate matters even further, Alexandria is his main assignment. He's to obtain a sample of her DNA for testing. It's believed that she may be one of the Chosen.
Special Agent Alexandria Sanchez is a no-nonsense kind of girl. She's focused on her job and isn't about to let anything get in the way of her very first assignment - including her new partner. She has no idea that he's a vampire or that she's his primary objective. What she does know is that her boyfriend isn't going to be pleased that she's leaving for Las Vegas with another man.
During the early stages of the Revolution twenty-five years ago, a baby named Sophie was kidnapped and never found despite her and Dell's fathers' attempts at finding her all these years. There's a distinct possibility that Alex is that missing child, but before Dell can clue her into the situation or even determine if she truly is the missing Chosen they receive their first assignment. It has them posing as an engaged couple working for a nightclub believed to be a front to launder drug money. The last thing Dell expects is for their new boss, Raif, to be a vampire with an agenda and no qualms about whether his sexual conquests are male or female.
Raif wants Dell and Alex both and has every intention of acquiring them both but he underestimates Dell's powers and inadvertently reveals a secret that nobody saw coming. Dell and Alex fight their feelings for each other but they soon have to acknowledge that they're too intertwined to fight them forever. Pretending to be engaged is wearing on them both. For Alex however, feeling such sexual desire is more than frustrating because of a protection spell placed on her. She's unable to have sex and she's willing to do whatever she needs to in order to finally find the release she needs.
Dell may not have thought he'd be taking up his father's fight but the revelation of a consort held hostage, Alex's plight, and a master sorcerer's evil nature all culminate to force him into fighting for what he believes. Will anyone survive the fallout?
Samantha Sommersby's Forbidden series has completely kept me enthralled through each new addition. The Revolution has won a special place in my heart though because of the heroine. Alex is such a `kick-butt-and-take-names-later' character that she's a pleasure to imagine. At the same time she's exceedingly vulnerable because of her desire to experience physical intimacy - something she's so far been unable to do despite herself. Dell is no slouch either. He fights for what he believes in and hopes for the best while knowing that the cost for each battle could be more than he truly wants to sacrifice. This is one of those stories that you can happily sink your teeth into and immerse in each new revelation along with the characters.
External Links