Thank you for over 9.3 million views of the SuccuWiki!
Fallen Angel (Novel)
From SuccuWiki - The Wiki of the Succubi

For other uses of the word Succubus, see Succubus (disambiguation).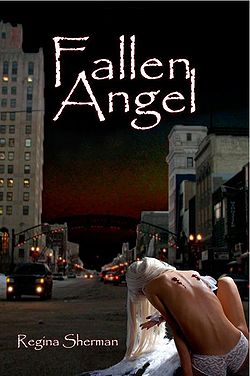 Fallen Angel is a novel written by Regina Sherman. In this book a Succubus named Katerine appears in the lives of the main characters of the work.
Details
Title: Fallen Angel
Author: Regina Sherman
Format: Paperback
Publisher: lulu.com
Pages: 408
Language: English
ISBN-10: 1435765095
ISBN-13: 978-1435765092
Release Date: August 15, 2011
Synopsis
Makenna Wilkensen has had many names and many identities since being cast to earth and remade into a vampire. Her latest assumed identity is that of an Independent bookstore owner. It's under this guise that she meets author Gabe Anderson. Intrigued by his resistance to her supernatural allure, Makenna offers to host a book signing at her store to keep him conveniently close. Determined to have more to talk about than table placement, she decides to read his novel. This simple decision changes everything, though, because his fictional characters are all too familiar. The names may have changed, but there's no mistaking the true identity of the key players in the novel, just as there is no denying the fact that his fiction comes all too close to the hidden truth of Heaven's fallen angels.
Book Review
At the time of this article's entry in the SuccuWiki no review was available.
External Links