Thank you for over 9.3 million views of the SuccuWiki!
EverQuest II Succubi Character List
From SuccuWiki - The Wiki of the Succubi

For other uses of the word Succubus, see Succubus (disambiguation).

For more on the Everquest Succubus, see: Succubus (EverQuest II)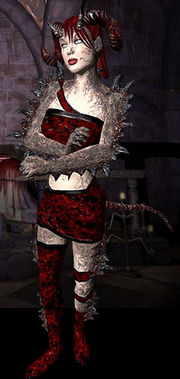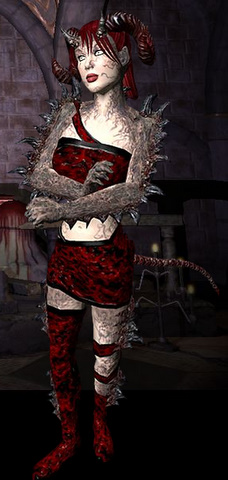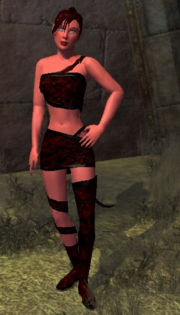 Succubus is a summonable character in the EverQuest II fantasy massively multiplayer online role-playing game (MMORPG) developed by Sony Online Entertainment and shipped on 8 November 2004. It features graphics and gameplay vastly updated from its predecessor game EverQuest on which it is based.
The following is a list of named Succubus characters within this game, and their statistics if available.
Succubus Characters
Archfiend Ivariai
Zone (Patch): Nektropos Castle (Shattered Lands)
Race: Succubus
Level: 35 Tier 4 Solo
Location: Automatically spawns at the entrance to the library
Reported Drops: none reported
Related Quests: A Missing Mask
AA Exp: none
Status Points: unknown
Asajj An'duuth
Zone (Patch): Rivervale (Shattered Lands)
Race: Succubus
Level: 46▲▲▲ Tier 5 Heroic
Location: outside of Rukir's house after you complete the second trip into Tower of the Drafling ( -804, -7, -251 )
Reported Drops: none reported
Related Quests: By Hook or By...
AA Exp: none
Status Points: unknown
Spawns with two a corrupted attendant (lvl 46 heroic) and two a wicked assassin (lvl 46v heroic)
Countess Satrinah
Zone (Patch): Forbidden Sepulcher (Shattered Lands)
Race: Succubus
Level: 42 Tier 5 Solo
Location: at the very back of the zone on the marble table
Reported Drops: Bloodletting Cutlass, Ravengard Barbute, Vambraces of Fervor
Placeholder: Disciple of Satrinah
Related Quests: The Blood Countess Rises
AA Exp: Yes
Status Points: none
Ethruia Aj'dora
Zone (Patch): Rivervale (Shattered Lands)
Race: Succubus
Level: 42▲▲ Tier 5 Heroic
Location: on the 1st floor in a bulding at ( -510, 0, -222 )
Reported Drops: none reported
Related Quests: The Reaching Blade of the Assassin
AA Exp: unknown
Status Points: unknown
Mistress Syryzana
Zone (Patch): Obelisk of Blight (Echoes of Faydwer)
Race: Succubus
Level: 71▲▲▲ Tier 8 Heroic
Location: in the room with key of chaos ( -78, -5, 40 )
Reported Drops: none reported
Related Quests: The Hidden Crystal
AA Exp: Yes
Status Points: none
She is a auto spawn when you have the quest The Hidden Crystal. She spawns a little to the left near the pillar by the altar when you approach the door to the next room.
Killing this monster gives good faction with The Myntr Tribe
Killing this monster gives good faction with The Fugutr Tribe
Ssilth Rageclaw
Zone (Patch): Rivervale (Shattered Lands)
Race: Succubus
Level: 48▲▲▲ Tier 5 Epic x2
Location: Rivervale (East) ( -703, -2, -172 )
Reported Drops: none reported
AA Exp: Yes
Status Points: none
Verishu
Zone (Patch): The Thundering Steppes (Shattered Lands)
Race: Succubus
Level: 40▲▲▲ Tier 5 Heroic
Location: ?
Reported Drops: none reported
AA Exp: none
Status Points: unknown
External Links