Thank you for over 12.9 million views of the SuccuWiki!
Eternal Descent
From SuccuWiki - The Wiki of the Succubi

For other uses of the word Succubus, see Succubus (disambiguation).
Eternal Descent is a virtual band created in 2004 by multi instrumentalist and writer of the Eternal Descent comic book Llexi Leon. Whilst the music is partly played by fictional characters represented in visual media, additional orchestral and industrial elements act as a soundtrack to the ongoing plot. The band's music is a collaboration between various musicians; Llexi Leon being the only permanent musical contributor. Their style is broadly Heavy Metal, but with a large number of other influences including: Industrial, Goth, and Romantic. One of the band characters, named Lyra Constance, is described as being a Succubus.
History
In 2009, producer Eddie Kramer (Led Zeppelin, Kiss, The Rolling Stones) signed a deal with Eternal Descent to produce their second album to be released in 2011.[1]
ESP Guitars became affiliated with Eternal Descent in 2008, granting the property rights to use ESP Guitars' likeness and logos in their publications and visual media. As such, Eternal Descent feature ESP electric guitars exclusively, and many ESP endorsed musicians have collaborated with Eternal Descent, such as God Forbid, Firewind, Atreyu, and Static X.[2]
Other Eternal Descent/Llexi Leon equipment endorsements include Kahler Tremolo System, Coffin Case, DiMarzio, DigiTech, Ovation Guitar Company and Ernie Ball.
Discography
Losing Faith (CD) (2007)
The Phantom of the Opera (EP) (2008)
Comic Book Series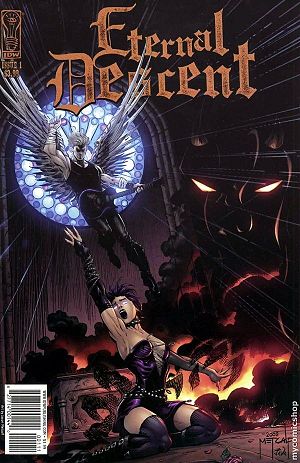 IDW Publishing singed a deal with Eternal Descent to publish a comic book series. The first issue of the Eternal Descent comic book was published in March, 2010 with subsequent issues following.[3] As of this article's entry in the SuccuWiki, six issues have been released, with a planned series total of twelve issues.
Series Outline
The demon Loki wants Lyra for his own. Through her music, he will bring his message to the masses, twisting an entire generation and growing new legions of followers. Only one being stands in his way. Sirian the fallen travels between Heaven and Hell, ensuring that no one oversteps the boundaries of this world. Becoming aware of Loki's plot, he sets out to save Lyra and the world, from Loki and the hordes of the Damned.
After a late-night rescue goes awry, Lyra awakens after death, with Loki's taint sweeping through her. Sirian decides to help Lyra, by assisting her to shape her afterlife and control her abilities.
With Sirian, Lyra travels through the many planes between Heaven and Hell, learning to harness her new power. It becomes apparent that Lyra is a pawn in a far greater scheme. Loki has already provided dark inspiration to countless rock and metal icons, bringing his message to the masses. Unknowingly, their collective imagination will grant Loki access to forgotten relics and powerful gateways, enabling him to unleash his armies of the Damned against all those who would oppose him.
Band Characters
Loki: A powerful, cold and calculating demon, constantly scheming elaborate plots. His abilities enable him to call on the souls of the Damned to rise and serve him. A powerful sorcerer, Loki is also a formidable combatant, and usually wields a long-handled, two-handed hammer, a nod to the god Thor. Loki is a self-serving villain with personal vendettas and a lust for power, which has driven him mad.
Sirian: Sirian was once one of Heaven's great guardians. Now fallen from grace, he keeps an uncertain and fraught vigil over a city and a people it is his bitter duty to safeguard. His weapon of choice was once a large double-edged axe, but in modern society, he has opted to have the blades take the form of an electric guitar, one that can cut through enemies with searing energy.
Lyra: The Succubus of the series, she once was a lead singer in a popular rock act. Lyra is sharp-witted, beautiful, and has attitude to spare. Her discontent with her life of vice and fame-at-any-cost, however, has opened up a chance for Loki to use her to his own ends.
Issues
Book 1: Welcome to a city where lost souls lurk in every shadow and darkness veils sinister designs, where heavy metal could be the key to salvation...or the gateway to destruction. A fallen hero, a twisted demon, one gorgeous succubus, and an army of chart-topping guitar heroes: the pieces are in place. The Descent begins.
Book 2: Chaos descends upon the stage, as the city crumbles into a ravaged wasteland! Loki has bested the fallen angel Sirian and seized Lyra Constance for his own. Or has he? As the curtains lift-and the sounds surge-Loki may have grabbed hold of more than he bargained for.
Book 3: In a city where the music never stops, the show must go on… even when the frontman has been driven insane. Loki has turned his fell designs to new prey. With the help of guitar hero Gus G, Lyra and Sirian must race against time to save Apollo-and the rest of the band-from the dissonant call of the Damned.
Book 4: A dark chapter unravels. As Lyra Constance attempts to unlock the secrets of her past and present, a rupture in time expands. A mysterious figure appears to warn Sirian of greater dangers ahead, and Wayne Static takes to the skies, hell-bent on raining down his own brand of heavy-metal thunder.
Book 5: The battle with Wayne Static has left the city in smoldering ruins... and Lyra Constance burning with a new determination: Find Loki and bring his reign of madness to an end once and for all. But in Loki's lair, nothing is ever as it seems. What looks like a way in could be a perilous trap, lying in wait.
Book 6: Trapped in the amber, Lyra and Sirian must fight for survival. Loki revels in his victory, as a sinister agent of the Damned leads Father Mattias on a dire mission. Meanwhile, a new presence threatens to turn the tune around one more time.
References
External links