Envy
Jump to navigation
Jump to search
Succubus/Hermaphrodite
Envy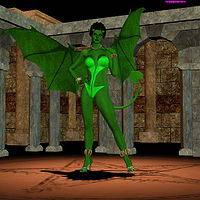 Name: Sabine Mercedes
(Deceased)
Age: 976
Height: 5'6"
Hair: Dark Green
Eye Color: Emerald Green
Succubus Alis: Envy
Ranking: 70.8 Control freak,
Extreme Jealousy
Envy, in the Angel Falls Universe, was formally known as Sabine Mercedes in the mortal world. An entertainer who was possessive, and envious unless she had the spotlight who resided in Angel Falls.
History
Envy was born 976 years ago, and was raised as a spoiled brat. She spent most her mortal life as a entertainer who had been in several prominent marriages to some very famous men. She was considered one of Lilith's prized succubus until recently she broke her contract to become a very famous entertainer. But her own vanity would bring her down as she was jealous of the attention that Samantha Potts received at the Angel Falls Holiday Gala.
She would play a cruel prank that would backfire,and her demonic defenses down was confronted by Lilith and brought back to hell to pay for breaking her contract. The mortal body of Sabine was killed in an apparent suicide.
Envy now serves as Lilith's orientation coordinator in hell.
See Also