Thank you for over 12.9 million views of the SuccuWiki!
Empusa: an Aether Vitalis Short Story
From SuccuWiki - The Wiki of the Succubi

For other uses of the word Succubus, see Succubus (disambiguation).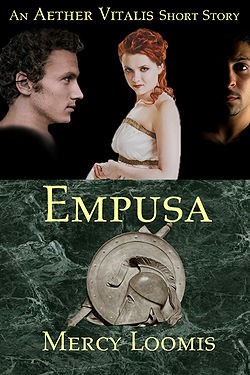 Empusa: an Aether Vitalis Short Story is an eBook written by Mercy Loomis. In this work the main character Empusa, is the embodiment of the classical demigoddess of Greek mythology. She has similar powers to that of Succubi. This work is followed by the story The Power That Dreams Have, also by this author.
Overview
Title: Empusa: an Aether Vitalis Short Story
Author: Mercy Loomis
Published By: Smashwords
Format: eBook
Length: 11 Pages
ASIN: B005Y17NZK
Publishing Date: October 20, 2011
Plot Summary
Empusa is a Greek daimon whose lovers usually don't live to tell the tale. She makes an exception for a trio of humans caught in a tangle of love spells, but there is always a price to be paid...
Other Works in this Series
Book Review
At the time of this article's entry in the SuccuWiki, no review was available. Tera has purchased this work and will review it as soon as possible.
External Links