On May 4, 2016, the 3,900th article was added to the SuccuWiki!
Elena Sanchez
From SuccuWiki - The Wiki of the Succubi
Elena Sanchez

Nationality
German
Occupation
Actress, Model, Stunt Woman
Years active
2010-Present
Known for
Demon Lilith in Sleepy Hollow
Website
None
Elena Sanchez is a German actress, model, and stunt performer. She has several main, supporting and stunt roles in both film and television programs. In 2014, she appeared in the American television series Sleepy Hollow as the Succubus character Demon Lilith for one episode.
Succubus Character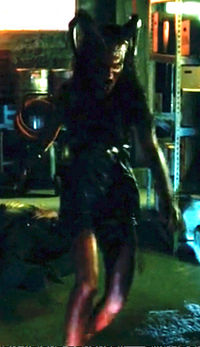 She played the role of a succubus character once as the character Demon Lilith in the episode Heartless in the second season of the Sleepy Hollow American television series.
Filmography
| Year | Production | Role |
| --- | --- | --- |
| 2015 | Mr. Right | Dison |
| 2015 | Wild Card | Security Guard (Uncredited) |
| 2015 | The Fantastic Four | Stunt Performer |
| 2015 | Insurgent | Stunt Double: Suki Waterhouse |
| 2015 | Return to Sender | Stunt Double: Rosamund Pike |
| 2014 | The Bag Man | Stunt Double: Rebecca Da Costa |
| 2014 | Refugio | Josy |
| 2014 | Aztec Warrior | Sandra |
| 2014 | Case Number 13 | Lady Brandt |
| 2014 | The Situation (Short) | Natasha |
| 2014 | Sleepy Hollow (TV Series) Heartless | Demon Lilith |
| 2014 | Brokedown Paradise (Short) | Storyville Girl |
| 2014 | Case #13 | Lady Brandt |
| 2014 | American Heist | Woman |
| 2014 | Cat Run 2 | Young Woman |
| 2014 | From Dusk Till Dawn (TV Series) Pandemonium | Culebra #1 |
| 2014 | Rage | Lisa |
| 2013 | The Hunger Games: Catching Fire | Cecelia |
| 2013 | Ol' Girl (Short) | Driver |
| 2013 | Texas Chainsaw 3D | Sally Hardesty (Uncredited) |
| 2013 | Now You See Me | Stunt Performer |
| 2013 | Oblivion | Stunt Performer |
| 2013 | Olympus Has Fallen | Stunt Double: Ashley Judd |
| 2013 | Beautiful Creatures | Stunt Double: Alice Englert - Uncredited / Stunt Performer |
| 2013 | The East | Stunt Double: Brit Marling - Uncredited) / Stunt Performer |
| 2013 | Texas Chainsaw 3D | Stunt Double: Alexandra Daddario |
| 2012 | Looper | Stunt Double: Emily Blunt - Uncredited / Stunt Performer |
| 2012 | 21 Jump Street | Stunt Performer |
| 2012 | Contraband | Stunt Double: Kate Beckinsale |
| 2011 | Trespass | Stunt Double: Jordana Spiro |
| 2010 | Honeymoon (Short) | Grace |
| 2010 | Thrill Kill (Short) | Officer Olivia Mason |
External Links