Thank you for over 17 million views of the SuccuWiki!
Ecstasy Unveiled (Demonica, Book 4)
From SuccuWiki - The Wiki of the Succubi

For other uses of the word Succubus, see Succubus (disambiguation).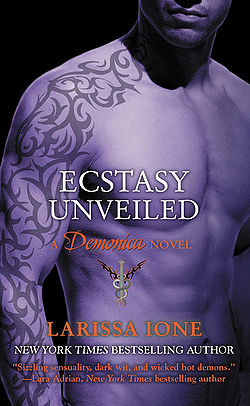 Ecstasy Unveiled is a novel written by Larissa Ione. It is part of the Demonica Series and is the fourth book in the series.
Book Details
Title: Ecstasy Unveiled
Author: Larissa Ione
Format: Paperback
Pages: 452
Publisher: Forever
Language: English
ISBN-10: 0446556823
ISBN-13: 978-0446556828
Release Date: February 1, 2010
Other novels by Larissa Ione on SuccuWiki
Book Synopsis
A Demon Enslaved
Lore is a Seminus half-breed demon who has been forced to act as his dark master's assassin. Now to earn his freedom and save his sister's life, he must complete one last kill. Powerful and ruthless, he'll stop at nothing to carry out this deadly mission.
An Angel Tempted Idess is an earthbound angel with a wild side, sworn to protect the human Lore is targeting. She's determined to thwart her wickedly handsome adversary by any means necessary-even if that means risking her vow of eternal chastity. But what begins as a simple seduction soon turns into a passion that leaves both angel and demon craving complete surrender. Torn between duty and desire, Lore and Idess must join forces as they battle their attraction for each other. Because an enemy from the past is rising again-one hellbent on vengeance and unthinkable destruction.
Book Review
The following review is taken from the Amazon.com link in the External Links below:
5.0 out of 5 stars
Excellent romantic fantasy
Reviewed On: February 5, 2010
Reviewed By: By Harriet Klausner
A Seminus half breed demon Lore is a sexual fiend and assassin. He loathes what he has done, but his contract to Deth expires after his next kill and his beloved sister will live. Nothing stops this killing machine, but this time he is stunned when the target Kynan, whom he brought back from the dead at a cost of two sunsets of agony and lost reputation amidst the Assassins Guild for his master, has the protection of an angel.
Idess the earthbound angel has one last task to earn her wings and soar to heaven to be reunited with her brother. She must protect Kynan at all costs.
When the demon and the angel confront one another, both are stunned as neither has felt an attraction to someone else ever before. They want one another, but she has a vow of chastity besides her personal security mission; he has his duty. Both know the stakes of failure especially him. Yet each question whether an angel and demon teaming up in love to fight his master can survive the encounter let alone win; as Lore and Idess know one or both will most likely fail at their assignment.
The latest Demonica romantic fantasy (see Passion Unleashed, Passion Unbound and Desire Unchained) is a strong tale that has the audience believing that demons and angels walk the earth, have family issues (just ask the hero), and binding contracts. The story line is fast-paced, but the key is the dilemma confronting the lead couple as seemingly someone they love and cherish will be hurt for eternity. This is a great entry in a super paranormal series in which angels and demons soar with passion, ecstasy and desire as they fall in love.
External Links