Thank you for over 9.1 million views of the SuccuWiki!
Dream Demon
From SuccuWiki - The Wiki of the Succubi

For other uses of the word Succubus, see Succubus (disambiguation).
Dream Demon is a novel written by Keith Gouveia.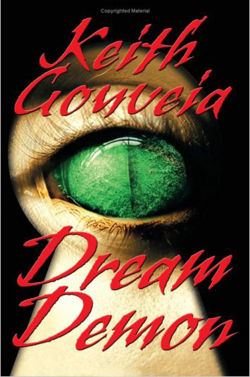 Details
Title: Dream Demon
Author: Keith Gouveia
Format: Paperback
Publisher: iUniverse, Inc.
Pages: 120
Language: English
ISBN-10: 0595272665
ISBN-13: 978-0595272662
Release Date: March 12, 2003
Synopsis
When Josh Mauer starts his first day in his new school he is immediately tormented by the local bully. After enduring repeated badgering, Josh and his two newfound friends unwittingly unlock a doorway to the demon world. They unleash a succubus, a seductive demon with the power to alter dreams as well as their lives.
Book Review
The following review is from the Amazon.com listing in the External Links below:
3 of 5 Stars
A unique monster
Reviewed On: November 27, 2003
Reviewed By: Ken Kupstis
KG is one of the only authors to unleash a SUCCUBUS, a female demons that preys on mortals through their dreams. This hasn't been seen since 1975's KOLCHAK: THE NIGHT STALKER on TV. A lot of readers will be able to identify with the characters in this book as we all had a hard time in high school, but there are a few errors and strange plot twists which slightly damage the narrative. Still, Keith is a promising writer who offers fresh new themes.
External Links