Thank you for over 8.3 million views of the SuccuWiki!
Beelzebub Girl
From SuccuWiki - The Wiki of the Succubi

For other uses of the word Succubus, see Succubus (disambiguation).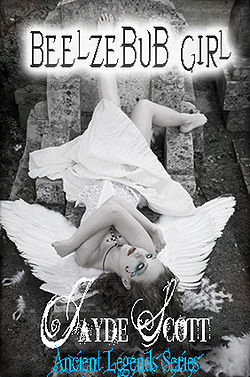 Beelzebub Girl, also released as Doomed is an eBook written by Jayde Scott. It is described as being the second book in the series Ancient Legends by this author. The other works in the series are A Job From Hell and Voodoo Kiss. In this work several of the characters are Succubi.
Overview
Title: A Job From Hell
Author: Jayde Scott
Published By: Smashwords and CreateSpace
Format: eBook
ASIN: B005A641OA
Publishing Date: eBook: July 1, 2011
Other Works in this series on SuccuWiki
Plot Summary
Enter a paranormal world of dark magic, rituals, love bonds and legends…
Fallen angel Cassandra wasn't supposed to fall in love with Dallas. It should've been just a bit of fun she couldn't resist.
The bond they share could save her from her curse before she's forever bound to Hell. Trouble is, she's Lucifer's daughter and Dallas is mortal, and mortals don't survive in Cass's world. Cass has many enemies. One is an immortal hunter who wants something Cass guards. The killer knows the only way Cass can be destroyed is by killing the mortal soulmate.
But where Cass comes from, losing one's twin flame is a fate worse than death...
Will chaos-loving Cassandra find a way to sway her immortal family in time with a revengeful killer wracking havoc in Hell in her quest to get the one thing half the paranormal world desires?
Book Review
At the time of this article's entry in the SuccuWiki, no review was available. Tera has purchased this work and will review it as soon as possible.
External Links