Thank you for over 9.3 million views of the SuccuWiki!
Demonic Princess Set (Vendalia Foxtrot)
From SuccuWiki - The Wiki of the Succubi

For other uses of the word Succubus, see Succubus (disambiguation).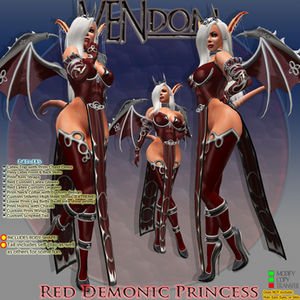 Vendalia Foxtrot is a Second Life skins and avatar designer. You can purchase various outfits, shoes, boots and other items to add to the avatar you use in the Second Life universe. This is a Demonic Princess Set that is available for purchase and use in the Second Life universe. All of the items can be modified that can be worn. Everything can also be copied in this set. It comes in a black or red version with gold or silver trimmings.
Demonic Princess Set
Custom Gold/Black or Red/Silver wings.
Custom Extreme Stilettos and belts.
Sexy Silky bodysuit with Latex type leggings.
Scripted wagging tail that has clicky emotes.
Comes with the sexy and more petite Vendom Body Shape.
Notes
The Demonic Princess Set comes in two combination: Red and Silver or Black and Gold. This set has a sexy bodysuit with flexy silk skirts for both the front and back. The set also comes with detailed prim attachments for the upper arms, chest, neck, and shoes. The black and Silver stilettos (black and silver or black and gold) are some of the most extreme around with a very long heel. This set also comes with custom horns and a scripted tail.
External Links