Thank you for over 5.1 million views of the SuccuWiki!
Demonate Succubus Imp Outfit (AdelleArts)
From SuccuWiki - The Wiki of the Succubi

For other uses of the word Succubus, see Succubus (disambiguation).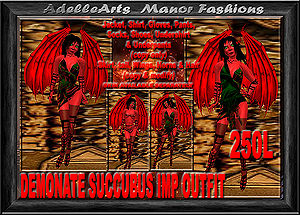 AdelleArts is a Second Life skins and avatar designer. You can purchase various outfits, shoes, boots and other items to add to the avatar you use in the Second Life universe. This is a Demonate Succubus Imp Outfit Avatar Set that is available for purchase and use in the Second Life universe.
Demonate Succubus Imp Outfit Avatar Set
Avatar comes with:
Jacket, Shirt, Gloves, Pants, Socks, Shoes, Undershirt & Underpants (Copy Only)
Skirt, Tail, WIngs, Horns & Hair (Copy & Modify)
Skin available as a separate Item
External Links