Thank you for over 9.1 million views of the SuccuWiki!
Demon Handler
From SuccuWiki - The Wiki of the Succubi

For other uses of the word Succubus, see Succubus (disambiguation).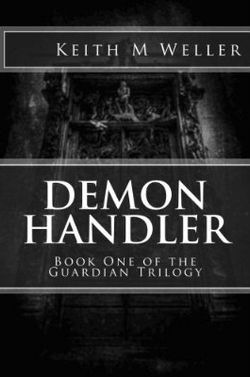 Demon Handler is a novel written by Keith Michael Weller. It is billed as the first book in the The Guardian Trilogy series by this author. In this work, Succubi appear as minor characters.
Details
Title: Demon Handler
Author: Keith Michael Weller
Format: eBook
Publisher: CreateSpace
Length: 380 Pages
Language: English
ISBN-10: 146792184X
ISBN-13: 978-1467921848
Release Date: March 19, 2012
Synopsis
Welcome to a world where the shadows do more than just follow you around. In the City of Seattle, WA what goes bump in the night might not be your children. Hide the kids lock the doors and start praying, for when the knock comes and the tongue is heard you have been chosen. Join the armies of the damned and fight along side the Demon Handlers or watch the cities burn as the Great Beast stirs. Only three seals stand between its imprisonment and freedom. In a race against time Michael and Adam are forced to join forces with their most ancient of enemies. Are they too late? Will the cities burn? Join our ranks, fight by our side and beware the shadows.
Book Review
At the time of this article's addition to the SuccuWiki, there was no review available.
External Links