Thank you for over 5.1 million views of the SuccuWiki!
Dead If I Do
From SuccuWiki - The Wiki of the Succubi

For other uses of the word Succubus, see Succubus (disambiguation).

For other uses of the name Lilith, see Lilith (disambiguation).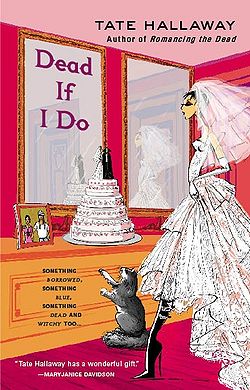 Dead If I Do is a book written by Tate Hallaway. This is the fourth book in the Garnet Lacey series by this author. Other novels in the series are: Tall, Dark and Dead, Dead Sexy, Romancing the Dead and Honeymoon of the Dead. In this series, the main character Garnet Lacey, carries the spirit of the Goddess Lilith within her.
Book Details
Title: Dead If I Do
Author: Tate Hallaway
Format: Paperback
Pages: 304
Publisher: Berkley Trade
Language: English
ISBN-10: 0425227537
ISBN-13: 978-04252275344
Release Date: May 5, 2009
Book Synopsis
Witch Garnet Lacey is ready to walk down the aisle with the super sexy vampire Sebastian. Besides the fact that he has no pulse, things couldn't be more perfect. Until plans for the wedding start falling apart, and Sebastian's zombie-slash-vampire-slash witch ex-lover decides that both of them should be six feet under. It's just a matter of time before Garnet-who's already sharing her body with a short-tempered goddess-morphs into Bridezilla.
Other Books in this series in the SuccuWiki
Book Review
The following review can be found at the Amazon.com link in the External Links Below
4 out of 5 stars
Reviewed On: May 5, 2009
Reviewed By: Detra Fitch
Garnet Lacey and her vampire boyfriend, Sebastian, are due to wed in two weeks. Garnet's parents have arrived and have been told that the groom is undead, not that they believe the news at first. But seeing Sebastian's zombie-vampire-witch-former lover, Teréza, show up in a public restaurant to curse Garnet and try to kill Sebastian certainly puts them on the road to believing. The parents will also have to learn about the other paranormal beings in Garnet's life, such as the Goddess Lilith, the Queen of Demons, sharing her body and Sebastian's half-vampire son.
Teréza's curse begins immediately. The baker cannot do her wedding cake, the awesome band has been replaced with a polka band, the bridesmaids' dresses get mixed up and are totally wrong ... the list goes on and each thing is worse than the last. It is beginning to look as though no one will live to see Garnet's wedding day.
This paranormal romance overflows with danger, excitement, and mayhem; however, whenever things become too stressful a healthy dose of irony or comedy shows up to ease the way. Tate Hallaway has an amazing talent for story telling.
External Links