Thank you for over 12.9 million views of the SuccuWiki!
Daughters of Change
From SuccuWiki - The Wiki of the Succubi

For other uses of the word Succubus, see Succubus (disambiguation).

Daughters of Change is an eBook written by Teressa Wilde. Within this novel is a story involving a Succubus.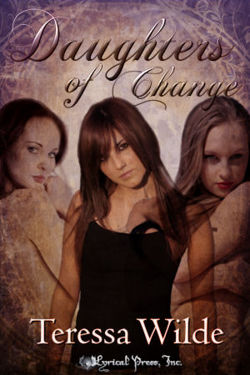 Overview
Title: Daughters of Change
Author: Teressa Wilde
Published By: Lyrical Press
Publishing Date: June 2, 2008
Format: EBook
ISBN 13: 978-0-9817144-6-2
Plot Summary
Cinderella, save thyself…
Daughters of Change revisits legend and folklore in tales told through the eyes of four different women. Venturing through Norway, Transylvania and other familiar realms, each story depicts arduous tasks and the heroines who must master them.
In Huldre, an ancient Nordic curse rears its head, and Sigrid must conquer it or never know true love. Firewitch has young Fredrika seeking help from Transylvanian gypsies to control her fiery new power before a wicked queen can destroy her. Succubus leads Theodora into a frightening new world her lover may not survive, and Kiss Me proves it's never too late to find love.
Archane magick, fell beasts, gypsies and witches...Can four women overcome the dark challenges thrust upon them?
Book Excerpt
A very short book excerpt is available at: http://www.lyricalpress.com/daughters_of_change_excerpt.html
Book Review
At the time of the entry's creation a review was not available for this novel.
External Links